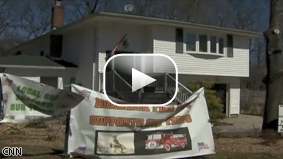 CNN's Jason Carroll reports on an organization that helps wounded veterans buy new homes or retrofit old ones.
From Stephen Samaniego, CNN Producer
Chris Levi has always been a military man. At the age of 14 he enrolled in military school in upstate New York. Upon graduation, he tried college but the military lifestyle called him back. After watching a news report on T.V. about soldiers dying in Iraq, he went to his local Army recruiting office and signed up. He didn't tell anyone, he just did it.
Chris is now recovering at Walter Reed Medical Center in Washington, D.C. In March of 2008, while in Iraq, Chris was riding in a Humvee when it hit an I.E.D. Chris was blown up along with his vehicle. His life was saved, but his legs were not. He sustained severe injuries to his right arm and almost lost that as well. Chris was transferred to Walter Reed and has been recovering there ever since.
As the reality of his injuries started to take hold, his family, especially his sister Kim, realized that Chris's real battle wouldn't take place in Iraq or in a hospital, but when he came home. "My greatest fear was that we're going to bring him to this house where there's stairs up and stairs down and we're going to stick him in a back room and he's going to be playing video games for the rest of his life," says Kim. "This is a kid who, he's just a proud amazing kid, he doesn't deserve that."
Kim knew that she had to do something. She and her boyfriend started reaching out to the community to try and find a way to help her brother. It was at a 5K Run for charity that Kim's boyfriend came upon Building Homes for Heroes.
Andy Pujol founded Building Homes for Heroes in 2004. He came up with the idea after working at ground zero on 911. "I took a rest, took my helmet off, took my mask off and sat there with tears in my eyes seeing what I was witnessing," Pujol says. "I wanted to do something else for my country; something that was patriotic, something that made a difference."
Building Homes for Heroes is a non-profit that builds and retrofits homes so that injured veterans can live an independent life once they are discharged from the hospital. They have roughly 25 volunteers who run the organization and fund all their projects through donations from the community.
When Andy Pujol heard Chris's story, he immediately knew that he was a perfect candidate to receive a gift from the organization. Working with the Levi family, Pujol and his crew went to work raising funds for Chris. They did some fundraising and were able to present a check to the Levi family for $50,000. That was just the beginning. The renovations that were needed to transform the bottom level of the Levi's home into a handicap accessible 1 bedroom apartment was estimated at $150,000. Building Homes for Heroes used its network to get the community involved. They secured donated material, labor and more money so they could meet their financial goals.
Chris is wrapping up his physical therapy and expects to return home in the next few months. The renovations are nearly complete and the Levi family is preparing to receive their hero. The money did more than just retrofit their home, "It also gives me the emotional motivation to say people really do care for each other," Chris told us. "People took from theirs just to help me out even though they didn't have to, I can't let those people down."
For more information on Building Homes for Heroes, visit: http://www.buildinghomesforheroes.com/