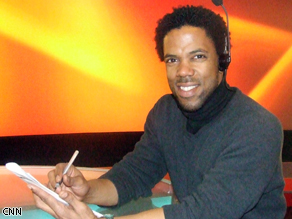 Bruce Dunkins takes a look at what's on tap for the day's show.
Each Friday in "Meet AM," we'll introduce you to the people who get American Morning to air.
Today, we'd like you to meet Bruce Dunkins. He's one of AM's floor directors, which means he helps to make what's been planned actually happen on the set. Bruce is from Maryland and has been in television since 1991. He's been with CNN for six and a half years, but he says it's gone by fast.
How did you end up working as floor director?
Throughout my career in television, I have held several different jobs (writer's assistant, associate producer, child talent coordinator). Then an opportunity presented itself where I was able to be on the set and train as a stage manager. I found that being on the floor was exciting and I also felt more connected with the production than when I was behind a desk. So I went from behind the desk, onto the set, and never looked back.
Describe your average day.
My day begins early, at 4am. The first and most important thing to do at that time is to make a coffee. Then I meet with the director, the lighting director and my co-floor director and we go over the preliminary plan for that day's show. I say "preliminary" because everything is subject to change, especially in a live, three-hour show. After getting a general idea of what "American Morning" has planned, I prep the set with all of the necessary set pieces (various tables and chairs) and check for little details such as the proper air temperature, dark monitors (the floor has over 60 screens and they all need to have an image), and missing floor spikes (small pieces of tape we use to mark where a set piece should be placed or where talent should stand). During the show, my primary job is to be a liaison between the director and the anchors. I pass along information I receive from the director such as how much time we have in a commercial break or from what position the next segment will take place. After the show, I clean the flurry of paperwork from the anchor desk and I make sure that all of the monitors have been shut down.
What's the hardest part of your job?
The hardest part of my job is catching ALL of the changes that happen in an instant. Many times we have a plan set before us and then, for various reasons, what we have planned is tossed out and we do something unplanned. To make sure that all of the parties involved are on the same page at all times is probably the most challenging part of my job. Many of us know that the communication business can ironically be lacking in communication!
What do you like most about working at AM?
What I like most about working on "AM" is the crew. The crew makes it easier for me to be happy about being in at 4am. The people I work with bring an enthusiasm and camaraderie to the workplace that always makes me feel lucky to be in a comfortable and supportive environment. On a daily basis, there are many examples of how we work together like a cohesive unit and I honestly think that I won't find a better group of guys on any set, anywhere.
What do you do outside of work? For fun?
Outside of work, I'm going to the movies, concerts or spending time with my daughter. For fun, I like to go to the gym (is that considered fun?), play guitar, rollerblade and read.
From Aparnaa Seshadri, CNN