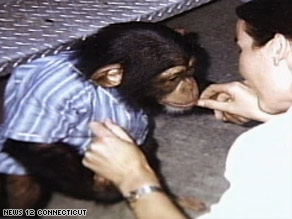 Police say Travis, seen here as a younger chimp, was like a child to his owner, Sandra Herold.
From CNN's Vinita Singla
Remember the horrific chimp attack last February when the Connecticut owner called 911 as her friend was being brutally mauled? Hear the call.
Now the family of the victim Charla Nash, may be suing the state, claiming that state officials knew the wild animal was a ticking time bomb.
"We're looking into all potential avenues of recovery," said Matthew D. Newman, an attorney representing the Nash family.
The commissioner at the Connecticut Department of Environmental Protection, an agency responsible for wild animals that are kept as so-called pets, admitted the DEP could have been "more aggressive" in handling the 200-pound primate.
A memo, recently discovered in an internal review of the DEP's bureau of natural resources, indicates that on Oct. 8, 2008, an unnamed state biologist warned that Travis the chimp "is an accident waiting to happen."
The state DEP's communications director, Dennis Schain told CNN the DEP's options were either to relocate Travis or "allow the status quo to continue." "Given the owner's strong attachment to the pet," said Schain, "going to court to relocate Travis would have been a battle."
The mayor of Stamford, Dannel Malloy said he's certain "the state will be sued." "The DEP had failed to do its job. That was admitted to by high-ranking employees of the DEP, including the commissioner."
The victim's brothers are already suing the owner of the chimp, Sandra Herold , for $50 million in damages and will appear in court next week.
Connecticut State Senator Andrew McDonald, in an AP video released on Friday, said there also "could be a very substantial claim against the state," which if successful, would be paid for by Connecticut taxpayers.
The Nash family has until Feb. 16, 2010 - one year from the violent attack - to file a claim with the state's Office of Claims Commissioner.
What do you think? Should the Nash family collect? Should CT citizens foot the bill?