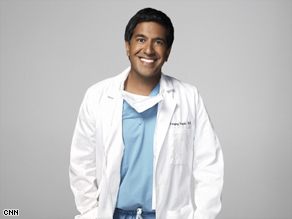 CNN Chief Medical Correspondent Dr. Sanjay Gupta answers your questions.
How can men stay healthy as they get older?
Asked by Bill, Dawsonville, Georgia:
"I am a pretty healthy 50-year-old guy, but I notice a lot of my friends and colleagues in the same age group are starting to get heart disease and prostate cancer. What is your advice for men wanting to stay a step ahead of potential health concerns?"
Answer:
Thanks for the question. I'm happy to hear you're interested in health prevention during the prime years of your life. You might be surprised to know that many men don't get regular health check-ups. It's interesting when you think about it: Many men tend to focus on their outer appearance around age 50 — get new clothes, new haircut maybe. But when it comes to regular health screenings, they often skip them! The problem is, age 50 is when potential health issues develop. Keep reading
Is a cold sore always permanent?
Asked by Kaley, Tucson, Arizona:
"Dr. Gupta,My roommate has been getting cold sores around her mouth since she was a little girl. I have never had one until very recently. Is it true that once you get a cold sore, you'll get them for the rest of your life? What can I do to avoid getting another one? Thanks."
Answer:
Hi Kaley. Thanks for writing in. Cold sores – also known as fever blisters – are highly contagious. The virus can live on towels, razors, cooking utensils, cups among other everyday household places. So you can imagine how easy it is to pass to a roommate, as in your situation, or to a family member. Keep reading
Email your questions for Dr. Gupta here or send them to him on Twitter @sanjayguptaCNN