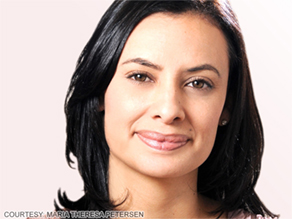 Maria Teresa Petersen is the founding Executive Director of Voto Latino.
Maria Teresa Petersen is the founding Executive Director of Voto Latino, a youth driven, national organization founded for the purpose of creating a unified voice for Latino youth on policy and advocacy issues.
With all the debate about immigration, there is one thing everyone agrees with: we have a national problem and we keep putting off dealing with it. For years our immigration policy has been mañana, mañana, mañana – the famous Spanish expression which means putting it off until another day. During the presidential campaign last year, then Candidate Obama said he would break that cycle, and this week, President Obama began making good on that promise by raising the issue once more.
Will we get comprehensive immigration reform this year? It's entirely possible we will, and, if not, we will at least make real progress toward legislation for next year. Many say that the economy is a big enough problem for President Obama and he shouldn't add more to his plate. But immigration is not a side dish. It's one of the core problems we face and we must deal with it now. As Rahm Emmanuel has said, the White House sees this crisis as an opportunity to address long-neglected national problems like healthcare, social security, and immigration.
Because of the economic crisis and the central role immigration plays in it, the time is ripe to forge a bi-partisan consensus around sensible immigration reform. The amnesty advocates and immigrant-bashers on either extreme may not like it, but most Americans can agree on a reasonable solution that secures our borders, gets undocumented workers out of the shadows, helps restore fair wages for American citizens, and protects children. This is the middle position that President Obama is starting to stake out, and he's likely to be successful in this environment because 5% of our workforce is undocumented and that makes immigration an economic issue.
Our current immigration system is broken: eight years after the tragedy of September 11th our borders still aren't secure and there are 12 million people who are undocumented living in the shadows of our society. This isn't some fringe problem: chances are all of us interact with undocumented workers every day. Some may be colleagues, friends, and neighbors. Smart reform promises to bring these generally hard-working, decent individuals into the light where we can tax them appropriately and prevent employers from suppressing their wages (and thus wages for all of us).
There are still some who argue that we should round up the undocumented and send them back. This is an awful idea for many reasons, not least because it's simply not tenable. What would a mass exodus of 12 million workers and consumers do to our economy, our schools, our tax revenue? The General Accounting Office (GAO) says a mass deportation of this kind would cost American taxpayers $47 billion – in other words it would bankrupt the Department of Homeland Security, not to mention the impact on businesses and communities where these folks live. I hope that President Obama can help us move the debate past these knee-jerk reactions to more sensible policies that make the best out of a difficult situation.
Here's a great way to start: Congress should pass the Dream Act, which offers opportunities for promising children of undocumented workers to get an education and legally join our society. 30% of undocumented people in America are children. Instead of seeing that as a problem, let's view it as an opportunity. These young people can grow up to be doctors, teachers, even members of Congress, if we craft an immigration policy that is best for America in the long-term.
Doing the math from a recent Congressional Budget Office report, had we passed a comprehensive immigration reform bill three years ago when President Bush proposed it, taxpayers would have made $66 billion in taxes, fines, and fees paid by undocumented workers. That's just one more reason why we have to stop saying mañana when it comes to immigration.
The opinions expressed in this commentary are solely those of Maria Teresa Petersen.