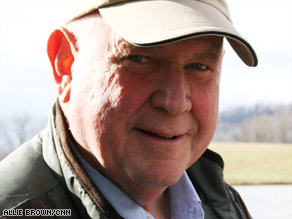 Retired Navy Capt. Ed Nicholson's Project Healing Waters Fly Fishing helps rehabilitate wounded servicemembers.
MADISON COUNTY, Virginia (CNN) - Amidst the tranquility of a fishing trip at the Rose River Farm in Madison County, a wounded warrior says he almost feels "semi-normal again."
The amputee is one of about 1,000 servicemen and veterans who have reaped the benefits of the therapeutic art of fly-fishing, with the help of retired Navy Capt. Ed Nicholson.
"The demons of war, you just don't set them aside," says Nicholson, 67. "But once you get out on the river, the serenity is incredibly healing."
While recovering from cancer surgery at Walter Reed Army Medical Center in 2004, Nicholson witnessed wounded and disabled men and women - many of them amputees - struggling with their injuries.
"Other than being in Vietnam and seeing people in the process of getting hurt, I never really had a full appreciation for the recovery part and what happened after they came home. My recovery was nothing compared to what they were facing. It planted the seed that maybe there's something I could do," Nicholson says.
The solution was obvious to Nicholson, who says being an outdoorsman is in his blood: Get them out of the hospital and into nature.