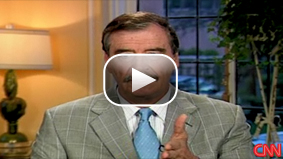 Former Mexican president Vicente Fox speaks to CNN's John Roberts about drug violence across the border.
Mexico is not in danger of becoming a failed narco-state any time soon.
That's according to Vicente Fox, the former President of Mexico, who spoke with us on the eve of President Obama's trip to Mexico city. Watch the interview
Fox dismissed the warnings of a growing number of analysts, saying the worst-case scenario is "far, far, away."
As for who is to blame for the surge in drug cartel violence, Fox refused to point fingers, saying both sides share responsibility – Mexico, for its role as a producer and trans-shipment point for illegal drugs, the United States for its insatiable appetite.
"We don't have to blame each other," said Fox this morning, "what we have to do is work together. Meet the challenge and solve the problem."
During his administration (2000-2006), Fox launched a crackdown on the drug lords – what he dubbed "the Mother of All Battles." He put thousands of people in jail, but he was criticized for leaving a power vacuum among the cartels, which erupted into the violent turf wars that rage to this day.
And unlike his successor, Felipe Calderon, who is using the power of the Mexican military to crush the cartels in places like Ciudad Juarez, Fox relied on the far more corruption-prone federal police to go after the drug runners.
Fox swats away such criticisms as so much nattering from the previous Mexican administration, which he claims allowed corruption to flourish.
While he applauds the measures taken by President Calderon to attack drug violence, he doesn't think the U.S. should use similar tactics to go after cartel operations on this side of the border. "I would not recommend the army," he said, "I think that's why we have police forces for – to meet this challenge and cut that supply and reduce the demand."
As for President Obama's upcoming trip to crime-ridden, sometimes violent Mexican capital, Fox believes the President will have a safe trip, one that will result in a spirit of "joint responsibility" to tackle the drug cartels.
John Roberts