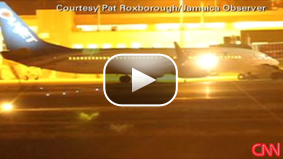 CNN's Kiran Chetry speaks to Jamaican Information Minister Daryl Vaz about the end to a hostage situation in Montego Bay.
When we arrived at work this morning, our producers were monitoring the latest on a story that broke overnight. CanJet Airlines Flight 918, a 737 charter flight from Canada with 174 passengers and 8 crew members, was being held hostage by a young man on the runway at Jamaica's airport in Montego Bay.
When we went to air all we knew was that the gunman slipped on the flight late last night and ended up releasing all of the passengers but was still holding members of the crew.
Then during the 8am hour of our show Jamaica's Information Minister Daryl Vaz joined us by phone and broke the news on our air that police entered the plane, nabbed the Hijacker and got the rest of the hostages out safely. Watch the interview
We were happy to be able to report that this tense standoff finally ended peacefully before we got off the air.
Speaking of planes, we got a lot of comments from many of you on cnn.com/amfix and our show hotline 1-877-MYAMFIX regarding United Airlines "fat passenger policy." Watch the debate
As always we want to hear from you. Follow us on Twitter @amFIX and @kiranchetrycnn.
See you in the morning!
Kiran