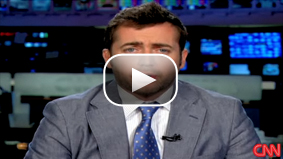 Journalist Michael Hastings speaks to CNN's John Roberts about President Obama's Afghanistan strategy.
President Obama is shifting America's military focus from Iraq to Afghanistan. His strategy includes more boots on the ground and more cash and diplomacy. Will the strategy work or should the Pentagon turn to quick intense strikes?
Michael Hastings is a contributor for GQ Magazine. He is just back from the Afghanistan/Pakistan border where he was embedded with American forces. Hastings spoke to John Roberts on CNN's American Morning Monday.
John Roberts: Some of the soldiers and commanders you spoke with are, according to your article, skeptical of whether or not this surge strategy is going to work. Based on your reporting, what do you think?
Michael Hastings: I think I found there was a significant amount of skepticism among U.S. officials and soldiers on the ground there and that a long-term, 10-25 year, multi-billion dollar commitment to Afghanistan has a very low chance of success. And essentially the question these officials asked was what are we winning? Even if we win in Afghanistan, what is it exactly that we're winning? Maybe the answer is maybe we're winning security gains, but that's not even for sure and there's certainly no guarantee of that.
Roberts: In the president's plan, 17,000 new combat troops are to go into the southwestern area of the country and 4,000 other soldiers are to go in as trainers. Based upon what you've seen and heard, how is the training program going? Is it paying off?
Hastings: Well, the training has been slow, painful, and very disorganized. The Afghan police are notoriously corrupt. At least 15% of their new recruits tested positive for drugs and I guess that's probably a low number. The Afghan army is just getting into shape after the Americans sort of took over the program from our European allies who haven't really picked up the ball there. It's sort of a flashback to the 1980s when we armed another group of Afghans to fight the Soviets, which became the blow-back that later became al Qaeda. And now we're saying we're going to arm this group of Afghans and this time we're going to get it right. And so I think there is a lot of skepticism about whether or not this is a good thing to do in the long run.
Roberts: We've seen that the training of the Mujahadeen was actually quite effective because they turned themselves into quite a fighting force, on the wrong side, unfortunately.
Hastings: Some of the Mujahadeen we trained are the ones we are actually engaged in on a daily basis there.
Roberts: The Obama administration is counting on help from Pakistan to get the job done. You talked to an Afghan captain who told you, "Pakistan doesn't want Afghanistan to have peace. Pakistan wants to keep Afghanistan unstable and destroyed." Did you see any evidence to back that up?
Hastings: Sure. I was out on the border with Americans and Afghan border patrol. And literally you could see the Pakistani border outpost about a mile or so away. And in the morning, we were attacked by Taliban that had literally walked past the Pakistan border outpost to attack us with the soldiers I was with. So it's certainly a common view held among Afghan officials that Pakistan wants to destroy them. I think the Obama administration's goal to reshape or reform the Pakistani military and intelligence service is also one that I would think would have a very low chance of success. And if it is going to have success, we're talking billions of dollars and as military advisers will tell you, 10 – 25 years.