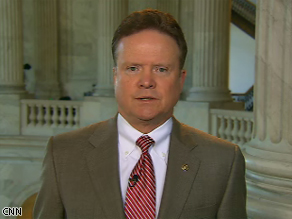 Senator Jim Webb calls our prison system a national disgrace.
There is a new push from Congress to try to overhaul America's prisons.
Senator Jim Webb (D-VA) calls our system a national disgrace. He says while we have just 5% of the world's population, we have 25% of the world's known prisoners. Also, drugs, corruption and violence are rampant inside of our jails and prisons.
Senator Webb is co-sponsoring a new bill to try to tackle these problems. Before launching this bill, his office collected facts about America's prison system.
According to his research, America has 2.3 million people behind bars. That's five times higher than the world's average incarceration rate. Another 5 million people are either on probation or out on parole. That makes them a part of the criminal justice system. And the number of jailed drug offenders here in the U.S. has increased 1200% since 1980. That research also says four times as many mentally-ill people are in prison than in mental health facilities.
Senator Webb spoke to Kiran Chetry on CNN's "American Morning" Thursday.
Kiran Chetry: You are pushing for legislation to fix our nation's prisons. What are the biggest problems as you see them?
Jim Webb: Well, I've been involved in this issue for many years as an attorney and as a journalist. In fact, at one point, I spent a month going through the Japanese criminal justice system. When I came to the Senate in 2007, I decided to hold hearings on mass incarceration and on drugs policy and to try to figure out where the criminal justice system itself is broken. We've got 2.38 million people in prison. We've got 7 million inside that criminal justice system. And yet our neighborhoods aren't any safer, particularly with the violent gangs, transnational gangs, etc.
The system is broken everywhere. And so I introduced a bill at the beginning of this year to get a national commission, a high-ranking, blue ribbon commission with a leader appointed by the president to get an entire look at the system all the way from sentencing to the conditions inside prisons, to re-entry programs and a look at the gang situation too, and to come up with a specific set of policy recommendations where we can fix the whole thing. We have 24 or 25 sponsors already in the Senate on this. The administration has said they support us. It's something we urgently need to do along with the other problems we have here.
Chetry: It's quite a tall order. You know that yourself. You say that our prisons are overcrowded. We know that that. They are ill-managed in some cases. There is violence and physical abuse, hate, breeding grounds that perpetuate and magnify these types of behaviors. But why can't we control what happens in our prisons?
Webb: Well, the question isn't just the prisons. The question is the criminal justice system at large. How we decide who goes to jail, what we do with them when they are inside jail, how we assist people who want to lead a better life when they get out, how we deal with the situation with gangs. They all interrelate and I think it's one of these things that every American has self-interest in fixing. Yet, when you get up here in the policy level, it just continually falls off the radar screen because politicians don't want to be accused of being soft on crime and it's not one of these issues that you see make the floor in a comprehensive way. This is what we want to do. This is like one chance in 50 years to really get our arms around this and fix it.
Chetry: I want to ask you about the huge percentage of growth in incarceration since the 1980s. A lot of this is the result of non-violent crimes. Research shows that 60% of people in state prisons who are serving time for a drug offense have no prior history of violence or any significant selling activity. So once again, the question goes back to legalization. Is there some way to address this problem and would you support perhaps legalizing marijuana?
Webb: Well, I think what we need to do is to put all of the issues on the table. You're correct. If you go back to 1980 as a starting point, I think we had 40,000 people in prison on drug charges and today, we have about 500,000 of them. The great majority of those are nonviolent crimes, possession crimes or minor sales. At the same time, we've got a situation with Mexican drug cartels conducting violence along the border, operating in more than 230 American cities and we aren't getting our arms around that in a proper way. We need to put it all on the table. That's why we need a presidential commission to look at these things, people who have high stature in these career areas and to report to Congress about the best way to go forward. But nothing should be off the table.
Chetry: And that includes possibly looking at legalization?
Webb: I think they should examine every aspect of drugs policies to see what is working and what is not working and where the consistencies are and, quite frankly, where the inconsistencies are in terms of how people end up in the system with similar activities.