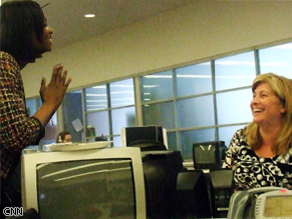 CNN's Lola Ogunnaike begs Chandra for an 8:50 hit time. Chandra wonders how much it's worth to Lola.
Each Friday in "Meet AM," we'll introduce you to the people who get American Morning to air.
Today, we'd like you to meet Chandra Whitt. Chandra is the senior planning producer. This means she is the one who figures out which reporters we want to cover which stories – both for our show the next day, and for the coming weeks. She also keeps on top of what reporters are already chasing. This means she's one of the few AMers who doesn't have to come in before 5am! Chandra is also one of the few AMers based out of Atlanta – she comes up and visits us in New York occasionally, and we're happy to have her here this week. Chandra's been with us for seven years.
How did you end up doing what you do?
I majored in communications in college and landed an internship at CNN my last quarter in school. From there I worked my way up the ranks of CNN – so you could sort of say this is my first job out of college, although I have had many jobs at CNN.
Describe your average day:
I normally start by getting a read for the day's news and then talking with our bosses about what stories we want to follow up on for the next day. I try to have our reporters assigned before 9am ET but sometimes we have to wait and see where the news takes us. I then work with the reporters and their producers throughout the day on the direction and focus of their piece. At the end of day, we do what we call 'stacking the show', which means we decide where stories and reporters will appear in our three hours.
What's the hardest part of your job?
Organization and multi-tasking. Not only am I in charge of planning the next day's show, but I'm also in charge of looking ahead days and weeks in advance. It can be a lot of juggling when you are keeping track of multiple projects and staff, so organization is a must. A sense of humor doesn't hurt either.
What do you like most about working at AM?
Undoubtedly working with our show staff. I work with a bunch of eclectic, funny and smart folks who keep me laughing (and sane) all day.
What do you do outside of work? What do you do for fun?
I love to travel. I'm an amateur foodie, so I love to go to new places and try new cuisines and then attempt to recreate them at home. Sometimes I can and sometimes, not so much.
What else do you think people should know about you?
I once ran into Ted Turner (a long, long, long time ago) in the hallways of CNN in Atlanta. I had dropped my ATM receipt and he chased after me to hand it back. I was a new employee and I was so awestruck to see the big boss, I couldn't even say thank you. So, Mr. Turner, if you are reading this...thanks!
From Aparnaa Seshadri, CNN