Editor's note: John P. Avlon is the author of Independent Nation: How Centrists Can Change American Politics and writes a weekly column for The Daily Beast. Previously, he served as Chief Speechwriter for New York City Mayor Rudy Giuliani and was a columnist and associate editor for The New York Sun.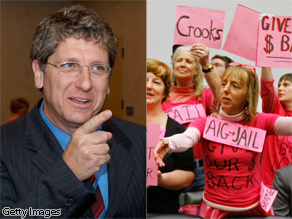 Randall Terry (L) and Code Pink protestors at a Congressional hearing in March 2009 (R).
When President Obama gave the commencement address at Notre Dame earlier this week he called for a constructive pursuit of common ground, even on difficult social issues. It was a welcome attempt at forging a respectful ceasefire in the culture wars that have divided and bedeviled American politics since the late 1960s.
But wingnuts aren't interested in finding common ground. Armed with ideological certainty, they come to protest and polarize. They are addicted to their drug of choice – a righteous indignation that makes them unable to see any perspective other than their own. Alternately strident and silly, callous and clueless, they become caricatures. They are unwittingly their own side's worst enemy.
With this week's wingnuts we're shining a light on protestors from the right and left who were in the news this week – Notre Dame protestor Randall Terry and Code Pink.
Longtime anti-abortion protestor Randall Terry embodied the outer reaches of American politics this week with a series of stunts and accusations surrounding President Obama's speech at Notre Dame. While many anti-abortion protesters were respectful and thoughtful, Randall Terry did not honor their common cause.
Camped out in South Bend, Indiana, Terry began with a particularly colorful protest that got him arrested on campus, pushing a baby stroller across the college with dolls covered in fake blood and bumper stickers that read: "Obama '09, one dead baby at a time."
He escalated in an interview with CNN days before the President's speech. The money-shot comparison in hyper-partisan politics is Hitler, with a close second being Pontius Pilate. Terry managed to do both in reference to our president. Take a look
In a few short minutes, Terry not only described President Obama as "the premier promoter of child-killing in the Western Hemisphere and perhaps the world" but described the invitation from Notre Dame as being "like inviting Pilate to speak after he ordered Jesus to be crucified." Then came the inevitable Hitler reference: "If you and I agreed with [Obama] on every issue but he just wanted to kill Jews, would you say, 'Listen, he builds great roads, he has great economic policies; let's forget that Jewish thing for now'?"
Terry somehow managed to hit a new low soon after. With fake blood on his hands and an Obama mask on his face, he lurched forward to scare a group of children who'd been assembled in what was an ostensibly pro-child photo op. Captured by one vigilant video-blogger and posted on YouTube, you can watch a grinning Randall Terry redefine crazy-town callousness in American politics.
Stunts with fake blood are all the rage for unhinged activists these days. The looney left protest group Code Pink attempted to assault former Secretary of State Condoleezza Rice with bloodstained hands earlier in the year. Earlier this month, they attempted an ambush of former Secretary of Defense Rumsfeld at the White House Correspondents' Association Dinner.
This is all par for the course in Code Pink-land, where a strident cluelessness accompanies street theater protests. They've disrupted countless congressional hearings, blocked the opening of military recruiting stations at Berkley and called our soldiers war criminals. They've been apologists for left-wing dictators like Venezuela's Hugo Chavez and met privately with Iran's Holocaust-denying President Ahmadinejad and called it "a major step forward." Lately, they've been collecting donations for Gaza. The US government is for them the prime enemy of peace in the world today. And apparently their feelings were not specific to the Bush administration.
On the same day that President Obama's approach to the war on terror was being attacked from the right by former Vice President Dick Cheney, Code Pink declared their own protest of the president's policies from the far left. They declared Thursday their netroot "Day of Action on Afghanistan," offering supporters talking points to overwhelm congressional switchboards and inboxes with the following demand: "withdrawal of all U.S. troops from Afghanistan and Iraq."
Code Pink is trying to speak for the folks on the far-left who feel burned by the recent $96 billion dollar funding for troop escalation in Afghanistan, despite the fact that Obama campaigned on such an increase. President Obama's centrist course of action in Afghanistan and Iraq succeeded in depolarizing the most divisive issue of this decade within weeks of his entering office. But there is a growing rumbling on the far-left that is representative of activists' allergy to the responsibilities of governing. For Code Pink, turning over Afghanistan to the Taliban would be the best way to achieve peace and justice. For a group supposedly dedicated to women's rights, that is naïve in the extreme.
It's time for a reality check: nobody is pro-abortion, just as nobody is purely pro-war. Individuals can be personally opposed to abortion while still believing in a woman's right to make this most difficult personal decision with minimal government interference; just as people can believe in just and necessary wars. We can find common ground in America, but it requires thinking responsibly about solving problems, not rabid protests. Democracy depends on a faith in persuasion, not violent polarization.
But President Obama should take heart: when the far left and far right are both protesting your policies, you're probably doing something right.
The opinions expressed in this commentary are solely those of John Avlon.