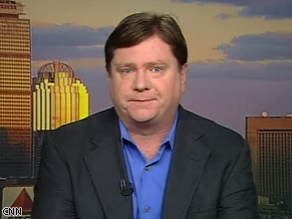 International security analyst Jim Walsh speaks to CNN's Kiran Chetry about the North Korean nuclear threat.
North Korea delivered on its threat Monday, conducting a second nuclear test that angered governments around the globe. The North had threatened to do so unless the U.N. Security Council apologized for imposing sanctions on it following a rocket test on April 5.The secretive communist state also apparently test-fired a short-range missile on Monday, the White House said.
Jim Walsh, an international security analyst at the Massachusetts Institute of Technology, says more sanctions against North Korea will not work. He spoke to Kiran Chetry on CNN's "American Morning" Monday.
Kiran Chetry: What does this claim from North Korea about the nuclear test and short-range missiles mean?
Jim Walsh: If you're just waking up on Memorial Day and you look at the headline, you say, my gosh, North Korea has had a nuclear test does this mean war, does this mean military conflict? The answer is no… We've had a previous North Korea nuclear test. It did not result in military conflict. And I don't think that's what's going to happen this time either. What we're really talking about are not military consequences but political consequences. Both inside North Korea, which is undergoing some sort of transition, and regionally with Japan, with China, with South Korea. So it is an unwelcome event, I have to underline that, but there's no reason for panic or fear.
Chetry: If we're trying to understand what's going on with that nation, what does North Korea want, what does North Korea want to prove with these tests?
Walsh: Well, if I could answer the question, what precisely does North Korea want, I would be a wealthy man and I'd be on an island somewhere, not in the studio right now. Because at the end of the day, we don't know that much about North Korea. Anyone who says they're 100% sure, you know, I wouldn't trust what they say. But we can have some guesses. One theory, a popular theory for some time, is North Korea does this sort of thing in order to improve its bargaining position. By taking a provocative action, suddenly people scamper and want to do something to ratchet back the tension and it also has the effect of dividing the countries in the six-party talks. Japan tends to get quite upset about these things; China, less so.
That divides the parties, improves the country's leverage. That's the traditional theory. There are some, and I'm starting to move to from the traditional theory to this alternative notion, which is this is less driven by external events and bargaining and more by internal concerns. Again, Kim Jong-il had a stroke. There's no clear line of succession. They are now in the process of trying to establish some sort of order for a new leader in North Korea at some point and when that sort of thing happens, governments often have shows of strength and that's not unusual for North Korea in particular to do that sort of thing when there's domestic change at home.
Chetry: North Korea has ignored U.S. warnings against conducting a nuclear test in the past, the White House released this statement this morning:
"By acting in blatant defiance of the United Nation's Security Council, North Korea is directly and recklessly challenging the international community. Such provocations will only serve to deepen North Korea's isolation. It will not find international acceptance unless it abandons its pursuit of weapons of mass destruction and their means of delivery."
Chetry: That's a pretty strongly worded statement from the White House this morning, but ultimately how much power does America have in reining in North Korea's nuclear ambitions?
Walsh: Right now, I would say the answer is all the countries involved have limited leverage. If it's a fact, again we don't know, but if it's a fact that what is driving this right now are issues internal to North Korea then it really doesn't matter what the outside world is doing. And it certainly doesn't matter if we're going to slap on some more sanctions. This is a poor country that's already as sanctioned as any country in the world. Sort of tweaking the sanctions isn't going to matter at all. I think what the U.S. is going do in the short term is you're going to see it's going to reach out to Japan, its treaty ally and try to reassure the Japanese public that we've got your back, that we're on your side. That's probably the most important thing the president and secretary of defense will be doing over the next week.