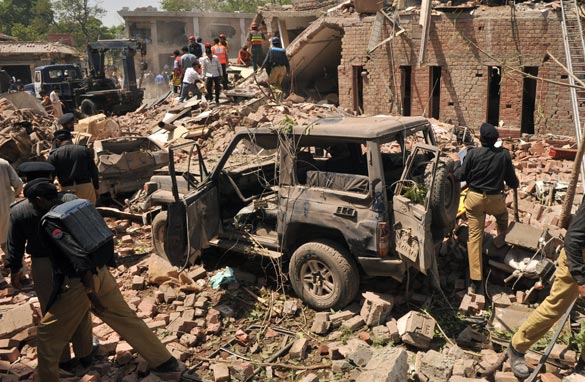 Pakistani policemen and rescuers search for victims in the rubble of a destroyed police building following a suicide car bomb attack in Lahore on May 27, 2009. Getty Images.
Here are the big stories on the agenda today.
Breaking now… North Korea upping the ante this morning, threatening war – after South Korea joined a U.S. effort to limit WMD trafficking.  There are also reports that U.S. spy satellites have detected signs the north has restarted its main nuclear facility.
Breaking out of Pakistan: gunmen targeting police in a ruthless attack. At least 23 people are dead after an apparent suicide blast in the northeastern city of Lahore.  Officials say the attack was well-coordinated, and reduced a police building with hundreds inside to rubble.  Over 250 people are also said to be wounded
President Obama is using a west-coast fund-raising tour to sing the praises of his Supreme Court Nominee, Federal Appeals Judge Sonia Sotomayor.  He was in Vegas last night and is heading to Los Angeles, today.  The president's pushing for quick approval in the Senate, but Republicans are saying, not so fast.  Senate minority leader Mitch McConnell is calling for a vigorous confirmation process.  We'll ask the leading Republican on the Senate Judiciary Committee what he will ask the judge – first.
From elation to isolation in matter of months. The same-sex marriage roller coaster continues in California.  The state's highest court has upheld a ban on same-sex marriage, but the fight is far from over.  Opponents of the ruling say it only makes them more determined.  Protests lasted all through the night.  They are promising to put "prop 8" back on the ballot next year.