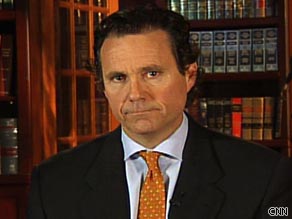 Ed Chernoff, attorney for Michael Jackson's doctor, speaks to CNN's Kiran Chetry.
There are new questions today about the sudden death of Michael Jackson. What really happened in his final moments before 911 was called to his home? What exact medications was he taking at the time and who prescribed them?
Joe Jackson, Michael's father, spoke publicly on Sunday for the first time since losing his son. He was on the red carpet at the BET awards telling CNN he has a lot of concern and doesn't "like what happened."
Dr. Conrad Murray, a cardiologist, was there when Michael Jackson went into cardiac arrest. Los Angeles police interviewed Murray for three hours on Saturday along with his lawyer Ed Chernoff. Chernoff spoke to Kiran Chetry on CNN's "American Morning" Monday.
Kiran Chetry: What was discussed during the meeting with investigators and you and your client?
Ed Chernoff: Well, generally it was just about the circumstances leading up to the point in time where Michael Jackson stopped breathing. What happened the night before, what happened that day, his history, his relationship with Michael Jackson – that kind of thing.
Chetry: That was a three-hour long meeting. Are there any other meetings with police that they want to have with your client, who they're saying is not a suspect and it's not a criminal investigation. They just want to talk to him; maybe figure out exactly what went wrong.
Chernoff: There's no meeting scheduled. We've let them know we're available to them any time they need us, any questions they have. We have told them that the medical examiner is free to call us. We'll be available to them. If they have any questions once toxicology comes out. I expect they will have some questions and we'll be ready to answer them.
Chetry: Now, was your client, Dr. Murray, aware of what prescriptions Michael Jackson was taking?
Chernoff: Well, yes. I mean, you know, Dr. Murray prescribed certain things to Michael Jackson, as a doctor. He had medical conditions, medical complaints. Now, there have been some questions about whether or not he was taking substances that Dr. Murray did not know about. But as far as we know, Dr. Murray knew what Michael Jackson was taking, knew what he was doing, and kept up with it all.
Chetry: Can you clarify some of the reporting that's out there about whether or not Michael Jackson was taking narcotic painkillers like Demerol, like OxyContin. Did your client, Dr. Murray, prescribe or administer those narcotic painkillers to Michael Jackson?
Chernoff: Yeah I've heard those rumors. And one of the things we agreed with the LAPD was, although we are not allowed to discuss and we certainly wouldn't want to discuss, the substances Michael Jackson might or might not have been taking. We can say this with clarity – Dr. Murray never prescribed Demerol, never administered Demerol, never saw him, Michael Jackson, take Demerol. And that goes as well for OxyContin. So I think those are just rumors. When toxicology comes back, Kiran, that's going to be all cleared up.
Chetry: All right. And for people who don't know this, they are very, very powerful and addictive narcotic painkillers, both that you mentioned. You talked about how Dr. Murray knew about Michael Jackson's ailments. There are a lot of questions about how a 50-year-old man who seemed okay before, was planning on going on a worldwide tour, then dies, stops breathing and goes into cardiac arrest. Can you explain a little more about what were some of those ailments Michael Jackson had?
Chernoff: Well, it's not appropriate to go into a man's medical history, an embarrassing medical history perhaps, something that ought to be left to the family or to his doctors. But I can say this – there's nothing in his history, nothing that Dr. Murray knew, that would lead him to believe he would go into sudden cardiac arrest or respiratory failure. Nothing – there was no red flag that was available to Dr. Murray, which would have led him to believe he should have died the way he did. It's still a mystery, how he died, to Dr. Murray. It was Dr. Murray, Kiran, as you know, that requested that the family ask for an autopsy, because he needed to know as well, as his physician, what caused Michael Jackson to stop breathing.
Chetry: Speaking of that, the 911 call was released this weekend… One of the questions people have is why was Michael Jackson on his bed and not on a harder surface where CPR tends to be more successful...on a hard, flat surface like the floor?
Chernoff: Right, right. Yeah, he was performing CPR on the bed. When this all occurred it was an emergency situation and the doctor began performing CPR on the bed. He continued performing CPR for 25, 30 minutes. The bed was firm, but that's not how – that's not all – the only reason why the doctor would have performed CPR on the bed. The doctor, at the time he performed CPR, used one of his hands to brace under Michael Jackson's back to provide that support for the compression. Michael Jackson is a very frail man. He was very thin, very small. And the doctor compressed his chest with one hand, braced his back with the other hand. He checked to make sure there was blood flow. There was. He was getting blood. In fact, at the time that he was – that emergency personnel came – he still had a weak pulse.
Chetry: When that 911 call happened, you said he was performing CPR for 25 to 30 minutes. Was 911 called immediately upon discovering Michael Jackson with the shallow breathing or with the weak pulse?
Chernoff: No…not immediately. Dr. Murray is his personal physician. That would be something you would want is your doctor to be available if you were going into cardiac arrest. He was there – especially a cardiologist – he was there to try to revive Michael. When it became clear he could not revive him through CPR, then he sought to call 911. The problem, Kiran, is that in Michael Jackson's home, the phones don't work. There's no outside line, at least in Michael Jackson's bedroom. So he had to yell for help, get security up and at some point then security called 911. That's the tape we hear.