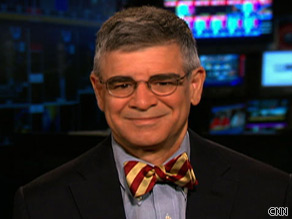 Peter Morici of the University of Maryland says President Obama's economic stimulus plan is doomed to fail.
It's been five months since President Obama signed his stimulus plan in to law. It includes more than $250 billion of government spending and tax breaks meant to create jobs. Yesterday, the president said unemployment may get worse before things turn around.
Peter Morici is a professor of international business at the University of Maryland and former economic director for the United States International Trade Commission. He says President Obama's stimulus plan is doomed to fail. He spoke to Kiran Chetry on CNN's "American Morning" Wednesday.
Kiran Chetry: The nation's unemployment rate hit 9.5% last month. There's debate on whether the stimulus is working and if it's working quickly enough. The White House says we are on target. But a lot of people are asking when are we going to see the effects? You, though, say it's doomed to fail. Why?
Peter Morici: The stimulus money is very badly spent. We knew the tax cuts from the Bush stimulus don't work. People are simply saving it. If you wanted stimulus to work, spend it mostly on shovel-ready projects, infrastructure, schools, hospitals, etc. But only $100 billion of the $800 billion is spent there.
Chetry: When you say shovel-ready – they found it a challenge within the administration to find shovel-ready projects, at least that's what many are saying, in these various states. How do you get that better organized so indeed if the money is there, only 10% has gone out, they can get it to projects that are ready to go?
Morici: I'm no Republican, but what President Obama is discovering is how slow the bureaucracy moves. It's very hard to push this kind of money through the system. Also, all of the red tape that the government has created doing construction has made it very difficult. I could get the money out there. But Obama doesn't seem to be capable of getting it done. The advisers don't seem to be able to get it done. What you got to do is just hand it to the mayors and county executives and say, "You got to spend x by the end of this year." Then give them another chunk for next year – "You got to spend that by the end of the year and so forth or you don't get to keep the money." Most municipalities and counties have a long list of renovation projects they're holding in abeyance because they don't have enough cash. That's the way to get it out. President Obama is not thinking in those terms. Instead, he beefs up the Department of Education.
Chetry: What they're saying within the administration is some of this money has actually been going to plug budget gaps. We know a lot of these local municipalities and state governments are suffering right now. If it's not sort of earmarked for something, it's going to go to plug the budget holes. How do you make sure it's actually going to go to things that will create jobs, like building roads, jobs, schools, construction?
Morici: You have to require it. You have to say, "We're giving you $100 billion by the end of 2009" – you divide it up by population – "it must be used for the following kinds of projects: renovating schools, reconditioning hospitals, things of that nature." And you know, the state and local governments for all their crying, and all of Mr. Obama's exertations, weren't laying people off. Employment was growing through the time the stimulus package was signed. Both education, noneducation, state, and local. And since it's been signed, it's continued to grow at approximately the same pace. I can find no discernible effect in the Department of Labor statistics for state and local employment that would indicate the stimulus is having any effect whatsoever. It's an absolute fraud in that regard.
Chetry: Yesterday, the president said we have to have patience when it comes to this and the plan was intended to work not in a couple of months but in two years. You say, though, that patience would fix a normal cyclical problem, a downturn and then an upturn in the economy. But you're calling this a structural problem – and it has to do with the fact that we don't manufacture enough here. What is the solution?
Morici: Well, we import too much from China without selling there. One of the best-selling cars in China are Buicks, believe it or not. But they won't buy any Buicks made in the United States. They have a 25% tariff and they require General Motors not only to make them there, but to move their suppliers there. That's why the Midwest is melting down. Because it's not just Buicks and cars, it's all manner of high-end industrial products for which China's cheap labor doesn't provide an advantage. That's about 50% of the trade deficit. The other half is oil. President Obama's windmills are not going to solve that. We need dramatically higher mileage standards right now. And we need a real clunker subsidy to get the big cars off of the road. For example, replace the Tahoes with Traverses – very big car but it gets twice the gas mileage.
Chetry: The other thing you talked about is the private sector shedding 6.6 million jobs, half of those being shed in manufacturing and construction. We know the housing market is struggling. What's the solution if you use that stimulus money to try to get people back to work and beef up manufacturing here in our country?
Morici: Well, essentially, you have to recalibrate trade with China, one way or the other. You have to get it to unhinge its currency and stop manipulating its currency. It's buying about $400 billion a year of U.S. dollars with yuan that it prints, basically giving them to us and then that basically keeps their currency cheap and makes those products artificially cheap in our markets. With regard to construction – we really have built too many houses. We're over-housed right now. There's an excess supply. So what you need to do is move those construction workers, as I said earlier, in to infrastructure – rehabilitating schools. The same guy that can put a roof on a house can put a roof on a school.