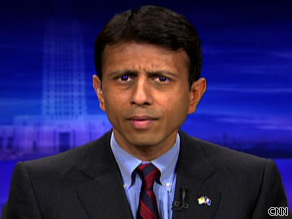 Governor Bobby Jindal says the House Democrats' health care proposal would put the government between doctors and their patients.
Key House Democrats are being summoned to the White House today for some not so subtle arm-twisting on health care reform. President Obama's looking for every vote that he can get to push health care reform through Congress by the August recess. Republicans, though, are fighting him every step of the way.
Louisiana's Republican Governor Bobby Jindal has been a vocal critic of the president's plan. He spoke to John Roberts on CNN's "American Morning" Tuesday.
John Roberts: You penned a rather scathing editorial for Politico.com on the Democrats' health care proposals. But your state ranks dead last in the United Health Foundation survey of overall health. It also had the fourth highest Medicare cost per patient in the country from 1996 through 2006, according to the Robert Wood Johnson Foundation. Some people out there might be wondering if you're the best person to be criticizing the administration's plans for health care reform?
Bobby Jindal: Well John, a couple of things. We've actually got a very aggressive waiver in front of the federal government allowing us – asking them for permission to allow us to revamp our public health care programs to put more of an emphasis on outcomes. Louisiana's a great example of what's wrong with many of our government-run health care programs. You look at Medicare – the Dartmouth data shows that higher spending doesn't always correlate to better outcomes.
Here's my concern with the House Democratic proposal, what's being discussed. You know, they say that if you like your health care, you can keep it. But that's not what this plan does. They say they're going to control costs, but even their own budget office says their plan doesn't do it. They say they're going to expand access. Look at what their plan really does: Increases the deficit by nearly a quarter of a trillion dollars. You've got a plan that in reality, their own budget office says, doesn't reduce costs. It increases taxes at a time that we may be in one of the worst recessions since the Great Depression. No economist thinks we should be increasing taxes right now on employers, on small businesses, on families that don't want to participate in this health care program.
And then finally, finally you've got a plan – the House Democratic plan – that puts the government in between doctors and their patients. That's no way to improve quality. And so, if they were actually doing what they said they were doing, that'd be one thing, but that's not what their plan does. At least you've got to give Senator Kennedy credit. In Newsweek this past week, he admitted that his ideal had been to have a single-payer, government-run health care system. I don't think that's the answer for our country. I think we should actually do what the rhetoric says. Let's focus on reducing costs. Let's focus on increasing quality. Let's not expand the government's role in running our health care.
Roberts: You mentioned the cost. And it's true that Doug Elmendorf of the Congressional Budget Office sent shock waves through Capitol Hill when he said that over 10 years this could add $239 billion to the deficit. But at the same time, if Congress does its job it could come up with a savings of $245 billion in that same ten-year period leading to a $6 billion surplus. Do you not have faith that Congress can get that part of the job done?
Jindal: Well, I've got a lot of skepticism about some of the things coming out of this Congress. You're looking over this plan – the score already includes over $200 billion in reductions from Medicare and Medicaid. So sure, you know, maybe they could balance this if they want to continue cutting Medicare and Medicaid programs for the elderly and the poor. But there's a better way to reduce costs than simply just cutting one provider group and raising our taxes. There are some real true bottom up solutions.
For example, why not attack frivolous lawsuits? We spend, by one estimate, over $100 billion a year on defensive medicine. Why not allow small businesses to pool their purchasing power? Instead of just expanding government-run programs like Medicaid, why not allow refundable tax credits to be used to help the uninsured, the working poor to buy coverage? Why not use portable electronic records? Why not require providers and plans to post their prices and outcomes on the Internet so patients can be in control? Why not do things that actually reduce the cost of care?
Let's address the problems with our insurance marketplace. Let's make insurance companies cover the sick. Let's make coverage affordable across state lines. Why should coverage be tied to your employment? You should be able to buy health care, whether it be through your church, your union, your bowling league. It shouldn't just be tied to employment.
Roberts: You said most Americans would end up being forced into  government-run health care, in this editorial. What makes you think that most Americans would be forced into anything, first of all? And saying it's government-run health care is misleading, isn't it? It's actually not the government that would be running the health care system. That would still be private, it would just be providing insurance.
Jindal: No, you're talking about a government-run health option. And this is a very important point…
Roberts: But it's government-run health insurance, it's not government-run health care, which is what you said in your editorial.
Jindal: Well, it's government-run health care in that they'll be deciding the rates. They'll be deciding what benefits are covered. They'll be deciding who they're going to pay, what procedures you can get. That's government-run health care. But look at the Lewin study. They estimate that as many as 100 million Americans may leave private coverage for this government-run plan. And this is a very important point…
Roberts: But they also say that as few as 10.1 million may leave for government-run health care depending on how the plan is formulated. That 119 million was the upper level and even the people who wrote that report said that's a worst case scenario.
Jindal: But you're talking about the same government that's paying for health care, regulating health care, now competing. It's going to be taxpayer subsidized. By their own estimates they say because the government will be shifting costs to the private sector, they're going to be underpaying providers. They'll be able to undercut their competition until they drive the competition out of the marketplace.
Because it's taxpayer-backed, you know that they'll have a lower cost of debt. They will be able to artificially shift costs. That's what happens today in Medicare and Medicaid. That's why you've got even Democratic legislators concerned. What happens today with Medicare and Medicaid is they underpay, shifting costs to the private sector. You're going to have a government-run plan doing the same thing. They're going to be artificially able to drive the private sector out of competition…
Roberts: That is one argument. But the Urban Institute's Health Policy Center said, "Private plans would not disappear. Private plans that offer better services and greater access to providers, even at somewhat higher costs than the public plans, would survive the competition in this environment." You also pointed out in your editorial, you said someone other than patients and doctors would make the decision on treatments and medications that we can have. Doesn't that already happen under private plans?
Jindal: Well ... we absolutely need to empower patients. It doesn't matter whether it's government or insurance bureaucrats. And that's why we need to reform the insurance program. Nobody is saying that what we have today is perfect. What we're saying is more government control's not the answer. But John, let's go back to this idea of competing with the government. Why do we think you have to have a government competition to make the private sector work? We don't think that about factories or stores or newspapers or TV stations. You know, the government's already getting involved in running banks and car companies. Why do we think more government involvement in running health care is the answer?
Here in Louisiana we saw what happens when you've got a government monopoly. We saw what happened with FEMA after Katrina and Rita. We're not convinced that a government monopoly – that a government-run health care plan is going to improve quality. I think the opposite's true. I think you're going to have more bureaucratic, more political decisions made out of Washington about what kinds of care you can get, who can pay for it, what kinds of treatments, who's allowed to get which treatments. I don't want the government making that decision. I as a consumer want to be able to choose my plan, my provider, my doctor, based on what's best for me and based on what's best for my family.