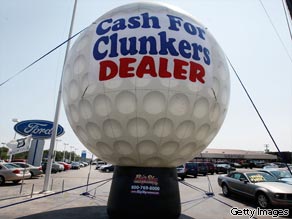 With the help of the U.S. government's 'Cash for Clunkers' program, Ford Motor Co. reported an increase of approximately 1.6 percent in U.S. sales for July in comparison to the same month last year.
The Cash for Clunkers program is getting a lot of credit for a surge in July car sales.
Right now, though, the wildly popular program is running on fumes.
If the Senate doesn't approve another $2 billion in funding this week.
The White House says the program will have to be junked.
We want to know what you think about the Cash for Clunkers program. Do you support more funding of the program? Have you used the program? Will you use it? Tell us your thoughts.
Read more: Which clunkers are being traded?