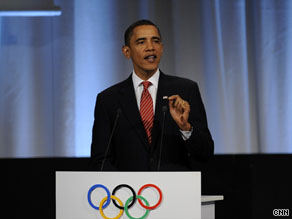 President Obama personally appealed to IOC members for the 2016 Summer Olympics Games to be in Chicago.
COPENHAGEN, Denmark (CNN) - President Obama urged the International Olympic Committee on Friday to pick his hometown of Chicago as the host of the 2016 Games, saying the city represents the American dream as well as the Olympic spirit.
Obama's address to the 106 IOC members gathered in Copenhagen, Denmark, was the highlight of the Chicago bid committee's final presentation before the vote to choose the host city.
"Chicago is a place where we strive to celebrate what makes us different, just as we celebrate what we have in common," Obama said.
He pointed out that from hosting the World's Fair in 1893 to hosting World Cup events in 1994, the Illinois city has the experience needed to put on an Olympic Games.
"We know how to put on big events and scores of visitors and spectators will tell you we do it well," the president said.