Editor's note: John P. Avlon is the author of Independent Nation: How Centrists Can Change American Politics and writes a weekly column for The Daily Beast. Previously, he served as Chief Speechwriter for New York City Mayor Rudy Giuliani and was a columnist and associate editor for The New York Sun.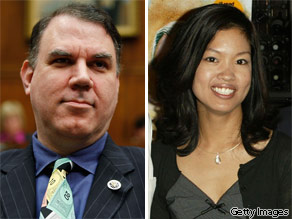 Rep. Alan Grayson (left) and Michelle Malkin (right).
A Democrat who seems determined to win the race to the bottom and Republican commentators who keep pushing their party further to the right in a hunt for heretics – its all in the "Wingnuts of the Week." Plus, a bonus round: a racist image posted on the RNC's Web site.
Freshman Rep. Alan Grayson (D-FL) has made a name for himself quickly in the halls of Congress, and he's done it the new fashioned way: by kicking and screaming and slandering.
Grayson has earned the first repeat "Wingnut of the Week" since we began this segment in May. His wingnut move at the time was saying that the Republican plan for health care was for people to "die quickly." But in the last few weeks he's hit two new lows: saying that Republicans are "the enemy of America" and "certainly the enemy of peace," and then calling one of Federal Reserve Chairman Ben Bernanke's advisors a "K Street whore" – on 9/11 Truther Alex Jones' radio show. (And, seriously, what was Grayson doing on a radio show hosted by someone who sells information on "How to Survive Martial Law in America" and a DVD about Barack Obama called "The Fall of the Republic"?)
It sounds to me like Rep. Grayson is coming a bit unhinged in his quest for attention. He's putting up online advertisements asking people to give him money because he's a "Democrat with Guts" – a similar move to the one pulled by Republican Joe Wilson after he shouted "you lie" at President Obama. And there are some Democrats who reflexively defend Grayson's comments simply because he's on their team. Being a professional polarizer does not make you an effective politician or even an effective communicator. Rep. Alan Grayson is again our "Wingnut of the Week" on the left.
On the right, our eyes turn toward a special election for the House seat in New York's 23rd district that used to be filled by Republican John McHugh until President Obama named him Secretary of the Army. It's become a test case for the center-right vs. far-right, pragmatic vs. pundit struggle for the GOP's soul. The campaign is between pro-choice and pro-gay-rights Republican state legislator Dede Scozzafava, Conservative candidate Doug Hoffman, and Democrat Bill Owens. The fact that the center-right vote is being split has pushed the Democratsinto pole position in the traditionally GOP seat, threatening to continue a trend that has reduced New York Congressional Republicans from 13 seats a decade ago to just two today.
Sarah Palin and other national conservatives have backed Hoffman, while Newt Gingrich has made a pragmatic big tent case for her election: "Dede Scozzafava is endorsed by the National Rifle Association for her 2nd Amendment position, has signed the no tax increase pledge, voted against the Democratic governor's big-spending budget, is against the cap-and-trade tax increase on energy, is against the Obama health plan, and will vote for John Boehner, rather than Nancy Pelosi, to be speaker." At another point, Newt laid out the underlying principle: "This idea that we're suddenly going to establish litmus tests and all across the country we're going to purge the party of anybody who doesn't agree with us 100 percent; that guarantees Obama's reelection" and even more sensibly "You know, you can have a very, very intense movement of 20 percent. You can't govern. To govern, you got to get 50 percent plus one."
For that bit of pragmatic math, the leader of the 1994 Republican Revolution was dubbed "King of the RINOS" by the wingnut netroots. Michelle Malkin has taken to a leadership role in playing Robespierre, firing off a missive titled "Yes, Newt, the GOP should be purged of Left-Wing saboteurs." I've defended Malkin in the past when she was crudely targeted by Playboy Magazine, but this stream of posts has all the wingnut heraldry – calls for a purge, a description of a centrist Republican as a "radical leftist" and a "saboteur," a violent internal traitor. And for that Michelle Malkin earns her place as "Wingnut of the Week."
Finally, the million dollar re-launch of GOP.com hit a snag when its Facebook fan page featured a rogue posting – by a person known only to date as Gee Dub – of a photo showing President Obama eating a chicken wing over the racist slogan "Miscegenation is a crime against American values: Repeal Loving v. Virginia" – the 1967 Supreme Court decision, which outlawed bans on interracial marriage. This fundamentally un-American slur remained up on the GOP's Web site for almost a week before being taken down. It's a sign of the ugliness bubbling up from the wingnut grass-roots that must be confronted if the Republican Party wants to reclaim its mantle as the Party of Lincoln.
I'm going to be signing off for a few weeks to get married and go on a honeymoon. I'll see you at the end of November and we'll continue with a new round of "Wingnuts of the Week."
The opinions expressed in this commentary are solely those of John Avlon.