Editor's Note: We're tracking three recruits from their final days as civilians through to deployment. It's an unprecedented look inside the life of a soldier. This is part three of the American Morning original series "A Soldier's Story," and don't miss part one and two here.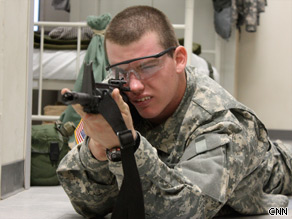 Army recruit Will McLain is in week three of basic training at Fort Leonard Wood, Missouri.
By Adam Reiss, CNN
It's week three of basic training for Will McLain. He and 193 other new recruits are busy getting through the red stage, physical training also known as PT.
The booming voice of Drill Sergeant Joseph Rix is ever present, "just trying to get them ready to deploy so they have a little bit of a head start more than what we did when we went through basic training," says Rix.
After a quarter of a mile run, Will has time for a drink, while outside a private, who just cannot make it, passes out on the ground. "You've done a total of twenty five push-ups and one lap. Now get up! You did not pass out," says a drill sergeant standing over him. Eventually the other soldiers are ordered to bring him into the barracks and leave him on a bunk to recover.
Later, several soldiers would stumble through the rigorous exercise that has them carrying two forty-pound duffel bags at the same time. It's not easy and Will has trouble lifting them both at the same time. Another angry drill sergeant whispers "encouraging words" in his ear.