By Bob Ruff and Carol Costello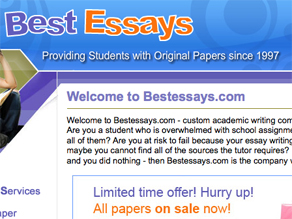 Online sites known as paper mills offer students term papers, reports, or essays – for a fee.
Outsourcing is a dirty little word among many Americans. When companies use cheap labor overseas to make products or perform services it often means those jobs are lost in the United States.
Next up on the outsourcing list? Take a deep breath and read on. America is outsourcing its brains.
According to the Center for Academic Integrity, in the last school year nearly a third of the faculty at its 360 college and high school member institutions reported students downloading term papers, reports or essays written by someone else from online sites known as paper mills.
We counted more than 250 sites selling papers online, so CNN'S Carol Costello went online to buy a term paper from one of them. She asked for a "Premium Quality" paper on Jayson Blair, the former reporter fired by the New York Times for making up stories. Three, double-spaced pages with 5 references (the references added to the cost), totaled $80.97.
The company said it would take a few days.
Watch: Students outsource homework

Costello talked to one writer from an Asian country, who wished to remain anonymous. He says, based on his experience, more than 90% of online term paper buying comes from the United States. "There's a huge demand for academic papers in the United States," he told her. "It's unethical, but you know I come from a Third World country. It's good pay. The temptation was really great."
Much of the time it's an English speaking writer from another country who is writing those term papers. DomainTools tracks Internet traffic to Web sites by nation. Essaywriters.net is one of the most established sites soliciting writers to write these papers. DomainTools says most of the visitors to essaywriters.net are non-Americans.
It breaks down this way:
Pakistan 28.8%
India 27.3%
USA 20.9%
Philippines 6.5%
Ukraine 4.2%
Indonesia 1.8%
While it may seem lucrative for a writer looking for some work, several writers we talked to said essaywriters.net did not pay them for the work they produced. One blog has become a place for writers to read about and exchange information on companies that sell research papers.
Terese Depoy, an Arizona substitute teacher and writer, says she contacted essaywriters.net to make extra cash by doing freelance writing under her pen name, M.J. Joachim. "The big pitch," says Depoy, "was that they...had really strong professional people that needed your services."
But when Depoy received the writing offers, she says she was appalled that it had nothing to do with corporate writing or research. "They're requesting term papers, they're requesting book reports...there were some that had entire course syllabuses for the semester...I was actually embarrassed!" Depoy, who has a daughter in college, chose not to participate. "What it tells me is, we're really dumbing down America. We're lowering the standard of education."
In a statement to CNN, essaywriters.net said "the original writing services that essaywriters.net and affiliates provide are for reference only and are not to be used without properly citing all assistance material. All customers are informed that it is their responsibility to use the reference material responsibly and never claim it as their own work. We hold our customers and writers the highest ethical and academic standards."
There is software designed to catch counterfeit papers. Turnitin is used widely by schools to catch cheating students. Professors who we spoke with said that while Turnitin is pretty good at catching stock term papers sold online, it's not so good at flagging custom papers that paper mills sell to students.
The University of California, San Diego (UCSD) says it caught 600 students cheating in the past year. Most of the students were either copying tests, using crib notes, helping others on tests, or turning in term papers off the Internet. The university is so concerned with the problem that it created a Academic Integrity Office to deal with it.
Tricia Bertram Gallant, the academic integrity coordinator at UCSD, runs a mandatory seminar for the student cheaters. "It's more important to address it when it happens and educate students about why paper mills aren't a good idea for them to use," she says. "It's not just about not getting caught, but it's about not learning how to write."
The paper Costello ordered about Jayson Blair, the former New York Times reporter, came three days later. We decided to run it by American University Journalism Professor John Watson.
Here's the very first sentence in the term paper that we bought:
"The media acting as the eyes of the society ought to practice its role with the highest journalistic ethics possible; feeding the society with information of unquestionable source to perpetuate the credibility and the moral obligation bestowed to it."
Professor Watson's assessment: "The first sentence does not express a coherent thought. Indeed, the entire essay does not show college-level organization or coherency."
The professor's grade for the paper? F (fail)
It may be easier but is it really better to be outsourcing our brains to unknown writers on the Internet?
Originally posted September 4, 2009.