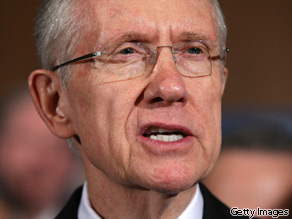 Sen. Harry Reid, D-Nevada, has found himself in political hot water over remarks he made about Barack Obama in 2008.
Washington (CNN) - The Congressional Black Caucus said Sunday that it had accepted Senate Majority Leader Harry Reid's apology for a remark he made about Barack Obama during the 2008 campaign and dismissed calls for the Nevada Democrat to step down.
Earlier in the day, the chairman of the Republican Party and a leading GOP senator had called on Reid to give up his post.
"Over the years, I have had an opportunity to work with Majority Leader Reid," Rep. Barbara Lee, chairwoman of the caucus, said in a statement.
"Senator Reid's record provides a stark contrast to actions of Republicans to block legislation that would benefit poor and minority communities."
Lee added that she looked forward to Reid serving as majority leader.
"There are too many issues like the economy, job creation and energy for these regrettable comments to distract us from the work that must be done on behalf of the American people," she said.