By Carol Costello and Ronni Berke
When Republican Scott Brown won the race for Senate in traditionally Democratic Massachusetts, he may have ushered in a new mood of bipartisanship.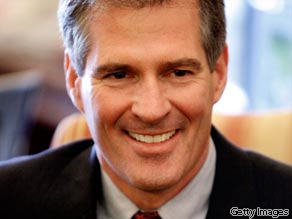 Republican Scott Brown won the race for Senate in Massachusetts, a traditionally Democratic state.
In a phone call with President Obama, Brown suggested that he and his daughter take on the president in a bipartisan game of basketball. "I said Mr. President, I know you like basketball, I tell you what? Why don't you pick your best player and I take Ayla? And we take you on two-on-two?"
Some in Washington say Brown's gesture was refreshing after a year of partisan rancor. For two longtime lawmakers, Democrat Dennis Kucinich of Ohio and Republican Tim Johnson of Illinois, signs like that are proof that bipartisanship is not dead.
The two independent-minded congressmen are often at odds with their own parties. And even while disagreeing with each other on policy, they have found common ground.
"Dennis is one of my good friends in the process," says Johnson. "I have a tremendous amount of respect for Dennis. We actually agree on some number of issues and we don't agree on others."
Kucinich warns against trapping people by labels. "We're all more than just a label. People here have great depth, they have a sense of humanity and when you connect with that humanity, you connect with people heart to heart."
In an age where lawmakers have become so wrapped up in such party labels – Washington is in a state of ideological warfare. In a recent study, "Congressional Quarterly" said partisan voting in Congress is the worst it's been in 50 years. But it doesn't have to be that way, says Kucinich.
"I'm a Democrat, but I'm not here so that the Democratic Party trumps everything in America. It's got to do what's right for America, not just win."
Johnson agreed. "If Massachusetts demonstrated nothing else, then it certainly should demonstrate that the old rules may not apply this year," he says. "People are disaffected, they're mad."
As for President Obama, both men say he should continue reaching out across the aisle.
"I hope he says we want to reach out to all people in the process, and come up with a product not only in health care but on foreign policy and others that will work for America," says Johnson.
"I hope he smiles and says I hear you. I hear you loud and clear and we're going to direct our policies accordingly," added Kucinich.