Editor's note: Lt. Daniel Choi is an Iraq veteran and a West Point alumnus. He is facing discharge under "don't ask, don't tell," the 1993 law that bars openly gay and lesbian people from serving in the military. An estimated 65,000 LGBT Americans serve in the armed forces, according to the Urban Institute.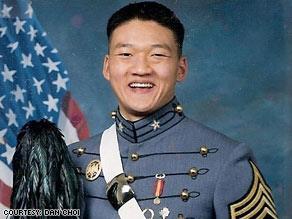 Lt. Daniel Choi is an Iraq combat veteran and a West Point graduate with a degree in Arabic.
By Lt. Daniel Choi, Special to CNN
As we watched our president speak so eloquently and thoughtfully about our country, many heard the resounding theme: "Jobs, jobs, jobs."
He spoke about the economy, then our national security, and then started speaking about our values. I wondered: "Is he going to address 'don't ask, don't tell'?"
We heard the buzz in the past days that he was going to mention it. I felt the speech was nearing the end and I was becoming a bit uncertain. And throughout this past year of coming out, standing trial for telling the truth, and fighting my discharge, I have become accustomed to this feeling of uncertainty.
This past year's journey has been a roller coaster for me. After returning home from Iraq and beginning my first love relationship, I realized that I could not lie anymore. Falling in love made me finally see why relationships make us more complete and more secure; I also began to understand my soldiers and their families.
As a leader, I always accepted the fact that my subordinates needed a support system at home, but now it became more than theory. The support and strength I got from my love relationship proved what I learned all along. It made me a better leader and soldier to finally understand true love.
So why should I lie about that?
When I came out publicly in March there was a great deal of uncertainty. Since I knew the 'don't ask, don't tell' policy would only require a statement as evidence to fire me, I was forced to choose: morals and honesty or career and rank?
But since my soldiers, peers and superiors knew about me being gay and there was no evidence of discomfort or chaos in my unit, I figured the military may indeed keep this Arabic linguist and West Point educated infantry officer.
Even after the trial in late June, where no evidence of lowered morale or harm to "unit cohesion" could be found, my career was uncertain. In fact, when I told some that I gave portions of my testimony in Arabic, I noticed an increase in morale and support from my unit. Even with the microscope of the media cameras on my case, even with all the commotion, my unit remains professional and ready.
Lawmakers who think 'don't ask, don't tell' is a "successful" policy are out of touch. Senator McCain is detached from reality. Rep. Boehner is flaunting his ignorance. Honesty strengthens a unit. Now is the time to erase the policy of hiding and lying. Our values cannot wait.
But in the end, the current policy says I must be fired for my statement of truth. I still have not heard the final decision. Will it be an Honorable Discharge or "Other Than Honorable"? Will I retain my veteran's health benefits? Will I carry the burden when applying for future employment? Will I be forced to pay back my West Point tuition?
So while I am inspired by the president's commitment and message, I still carry a toxic burden of uncertainty about the outcome of my career. I love my job and my team; I want my unit to deploy with all the skilled soldiers, resources and support available.
The president, as commander in chief, listed his national security objectives, reminding us that 9 years after our country was attacked we must all do what we can to keep our nation and the world more secure.
Whether in Iraq, Afghanistan, or Haiti, I was excited to think that I could do my part in any of these efforts as a soldier. I was excited that by the end of this year I might be able to serve in a military where honesty is protected, not punished, by law. While I heard the majority of the speech addressing jobs, I remained uncertain about my own.
But why should I remain uncertain? With all the drama surrounding the one line and so many gay activists praising this utterance as if they wrote the speech, I felt I should join the celebration. But I ultimately felt the harsh reality of what was missing.
As dramatized as it was, it was not an executive order saving my job and those of thousands, but a repetition of a promise: a reprinted I.O.U. While America knows that repeal is indeed the "right thing to do," so far it has only been the "right thing to say."
In my view, President Obama could have addressed 'don't ask, don't tell' in any portion of the speech. It is a matter of national security, it is fundamental to our values, it is preventing me from doing the job I love. But ultimately, I have found more than a job. Fighting to repeal 'don't ask, don't tell,' fighting for the values of honesty, fighting for our love is a moral responsibility: it is a Duty.
And when faced with such a duty, despite our fears and uncertainties, we cannot "run for the hills."
We must take the hill.
The opinions expressed in this commentary are solely those of Lt. Daniel Choi.