Editor's Note: Welcome to American Morning's LIVE Blog where you can discuss the "most news in the morning" with us each week day. Join the live chat during the show by adding your comments below. It's your chance to share your thoughts on the day's headlines. You have a better chance of having your comment get past our moderators if you follow our rules: 1) Keep it brief 2) No writing in ALL CAPS 3) Use your real name (first name only is fine) 4) No links 5) Watch your language (that includes $#&*).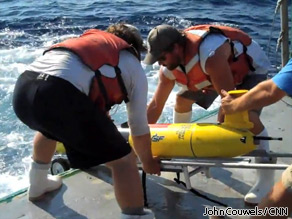 As if the pictures of birds killed by oil in the Gulf of Mexico is not disturbing enough, scientists with the University of South Florida say they've found a second oil plume.
Scientists say second oil plume lurking underwater
(CNN) – As if the pictures of birds, fish and animals killed by floating oil in the Gulf of Mexico is not disturbing enough, scientists now say they have found evidence of another danger lurking underwater.
The University of South Florida recently discovered a second oil plume in the northeastern gulf. The first plume was found by Mississippi universities in early May.
USF has concluded microscopic oil droplets are forming deep water oil plumes. After a weeklong analysis of water samples, USF scientists found more oil in deeper water.
"These hydrocarbons are from depth and not associated with sinking degraded oil but associated with the source of the Deep Horizon well head," said USF Chemical Oceanographer David Hollander.
Through isotopic or microscopic fingerprinting, Hollander and his USF crew were able to show the oil in the plume came from BP's blown out oil well. The surface oil's so-called fingerprint matched the tiny underwater droplet's fingerprint. Read more
Program note: It's an interview you don't want to miss this morning: She's a bona fide engineering prodigy. Her name is Alia Sabur and she started her doctorate at 14-years-old, even reading before she could walk! She's accomplished everything she said she would and quicker than anyone thought. She says she can fix this oil leak in the Gulf, so is BP listening to her?
Full coverage | LIVE: Undersea view

Sound off: We want to hear from you this morning. Add your comments to the LIVE Blog below and we'll read some of them on the show.