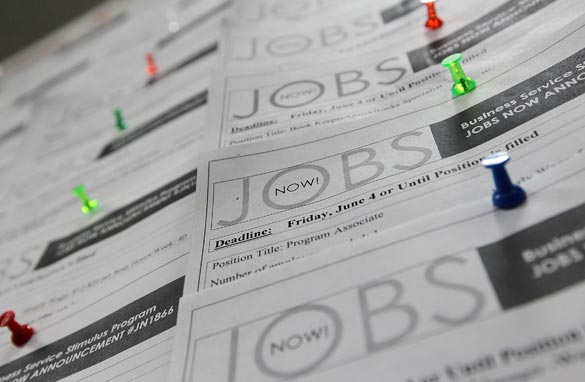 (CNN) – By the time Congress returns to work next week, 2.1 million unemployed Americans will have lost their jobless benefits. That's because lawmakers failed to pass an extension before taking their summer break. That has a lot of Americans angry. But some economists insist unemployment extensions have to stop, claiming they add to the deficit and keep people out of work longer. Others call that perspective cruel, considering this economy. On Thursday's American Morning we were joined by two experts who squared off over the issue; Michael Tanner, a senior fellow at the Cato Institute, and Lawrence Mishel, president of the Economic Policy Institute. Watch

(CNNMoney.com) – The number of Americans filing first-time claims for unemployment insurance fell last week, according to a government report released Thursday.
There were 454,000 initial jobless claims filed in the week ended July 3, down 21,000 from an upwardly revised 475,000 in the previous week, the Labor Department said.
The number of claims was lower than expected. A consensus estimate of economists surveyed by Briefing.com expected 460,000 claims.
The 4-week moving average of initial claims, which levels out volatility, was 466,000, the highest level since March. The figure was up 1,250 from the previous week's upwardly revised average of 467,250.
"This is welcome news since claims are moving in the right direction again," said John Lonski, chief economist at Moody's Economy.com. "But the number is still not convincing proof that private sector payrolls are growing by at least 100,000 per month, and that's what we need for a durable economic recovery."
Lonski cautioned that that the current 2-week and 4-week moving averages remain well above their respective averages for weeks ended March 27, when jobless claims fell to a 19-month low.
The number of people filing continuing claims decreased to 4,413,000 in the week ended June 26, the most recent data available. That was down 224,000 from the preceding week's upwardly revised 4,637,000 claims.
The 4-week moving average for ongoing claims fell by 18,750 to 4,554,000 from the previous week's downwardly revised 4,572,750.
Continuing claims reflect people who file each week after their initial claim until the end of their standard benefits, which usually last 26 weeks. The figures do not include those who have moved to state or federal extensions, or people who have exhausted their benefits.
The House voted to extend the deadline to file for federal jobless benefits through November, but the Senate will take up the measure after its weeklong summer break. As a result, more than 2.1 million people are expected to have lost their unemployment benefits by the time legislators reconvene on July 12.