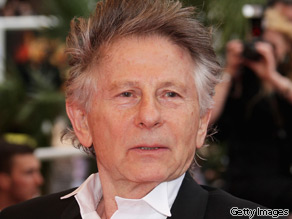 Director Roman Polanski is under house arrest in Switzerland pending extradition to the United States.
(CNN) - Switzerland will not send Oscar-winning filmmaker Roman Polanski to the United States to face child sex charges, the Ministry of Justice announced Monday.
He is now free, the ministry said.
Polanski pleaded guilty in Los Angeles, California to having unlawful sex with a 13-year-old girl in 1977 but fled to Europe before he was sentenced.
He was arrested in Switzerland last year and had been fighting extradition since then.
Switzerland was not making a decision about the severity of the charge or whether Polanski was guilty, Justice Minister Eveline Widmer-Schlumpf said.
"It's not about qualifying the crime. That is not our job. It's also not about deciding over guilt or innocence," she said.
The Swiss rejected the American request because the United States did not supply all the legal records Switzerland requested, and because Polanski had a reasonable right to think he would not be arrested if he visited the country, she said.