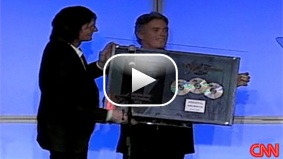 There are moments in life where you look back and take stock of everything that has happened over the years – a sort of reflection of where you started, where you ended up and where you might go in the future. I had one of those moments on Thursday when I was inducted into the Canadian Broadcast Industry Hall of Fame.
It was in Canada, because that's where I started my career – as a newsman in the proverbial 5000 watt radio station in the middle-of-nowhere. I did the requisite tour of small town radio before landing at the nation's powerhouse station. From there, I embarked on a hectic, tortuous and sometimes calamitous road through music journalism, the launch of a 24 hour cable music channel, local news in Canada and the US, a network morning show back in my birthplace, CBS News, a 6 year stint as White House Correspondent, then to CNN and American Morning. Somewhere in between, 34 years went by, which is just absolutely stunning to me.
When I look back through that history, I am struck by how fortunate I was.
Life is about breaks – and people who believe in you. I got more than my fair share of breaks, and I had some good people who were willing to take a chance on me.
I'm sure I disappointed some of them along the way... but I always tried to work hard and put every ounce of my enthusiasm into whatever I did.
I'd like to think that you can look back over the years and have no regrets. But I have plenty. Things I did that I shouldn't have – things I didn't do that I should have.
But I am blessed to have had the opportunities I did.
The old saying goes that they put you in the Hall of Fame just before you're put out to pasture (actually – I'm told that's the lifetime achievement award) but in many ways, this feels like a new beginning: new challenges to be met, new goals to be set, new dreams to fulfill. Taking stock can be inspirational.