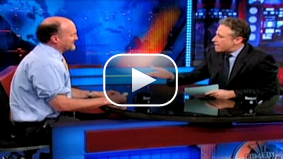 Watercooler consensus this morning is Jon Stewart won the battle of the funny man and the money man. Stewart's ratings are up 20 percent since this 5-day feud erupted. Cramer's are down. No way to measure the value of all the free publicity these guys are generating because of it. (Though Stewart poked fun at being able to raise advertising rates because it.)
Stewart made the most eloquent assessment yet about how Wall Street's side-bets in complicated derivatives and its aggressive leveraging hurt the responsible buy-and-hold investors who are the backbone of the financial system. And CNBC was nothing more than a cheerleader, he blasts.
Leave it to the Daily Show's staff: They certainly watch ALOT of cable tv news tape. The big showdown last night between Stewart and CNBC Mad Money man Jim Cramer was chock full of embarrassing videotape of Cramer. Clips from 2006 (some featured a couple days ago by CNN's own Jim Acosta) that showed Cramer seeming to talk about manipulating the market.
Stewart hammered Cramer again and again, calling for his producers to roll numbered clips from Cramer as a hedge fund manager, to damning effect.
Stewart dissed Cramer's frenetic show, his trademark showmanship and his flash, when talking about a financial system that has battered Main Street investors.
Here's Stewart's outrage: "I understand you want to make finance entertaining, but it's not a (bleeped) game and when I watch that I can't tell you how angry that makes me."
(The bleeped word rhymes with duckling. Watch with the sound off and there is no doubt when Stewart lets the F-bombs drop.)
Here's Cramer's contrition: "Absolutely we should do better. There are shenanigans and we should call them out, everyone should, I should do a better job at it. I'm trying, I'm trying. Am I succeeding? I'm trying."
It was less mano a mano, and more mea culpa.
The whole thing ended with a handshake and a challenge. Stewart called on CNBC to get back to the fundamentals of reporting, and Stewart could get back to farts and funny faces.
Does it end here? Probably not.