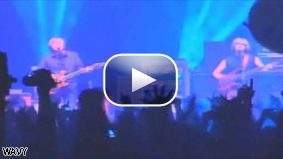 Phish is back… again!
After a nearly five-year absence, the kings of the jamband scene reunited for a three-night run at the Hampton Coliseum in Hampton Virginia last week. The venue occupies a special place in the hearts of many Phish fans because their incredibly popular live album Hampton Comes Alive was recorded there.
Phish opened the show with their classic anthem "Fluffhead," a lengthy, multi-sectioned tune from their debut 1988 album Junta..
It was the band's first performance of the song since 2000 and the fans responded with raucous applause.
The crowd's raw emotion can be clearly heard on a clip posted on youtube by a fan here.
By all accounts, they not only played "Fluffhead," they nailed it. This also goes for the rest of the Hampton shows. In all they performed 86 songs over three nights. Internet message boards still lit up with comments about songs they didn't play; I leave it to the reader to name another band that can play nearly 90 songs and still manage to leave something out!
Perhaps astonishingly, Phish provided no signs of a band that had been on an almost five-year hiatus. They seemed intent on moving swiftly through their immense catalogue, eschewing their reputation for playing 30 minute-plus, sometimes-meandering jams.
On average, they kept most songs under ten minutes in length, only surpassing the twenty minute mark twice. It should be noted that one of these instances occurred when Anastasio was forced to stop and restart a song when he began it in the wrong key. The flubs, however, were few and far between. Along with Anastasio, the rest of the band played with an inspired intensity suggesting that they genuinely wanted to be there and it wasn't just a three-day payday, as many cynical internet "talkbackers" intimated.
Bassist Mike Gordon continued the Phish-tradition of bringing out eclectic cover-songs by taking the lead on the George Jones Honky-Tonk classic "She Thinks I Still Care." The instrumentation was just as varied as the song-selection. Drummer Jon Fishman performed a solo by blowing into a vacuum cleaner during the Phish original "I Didn't Know." And perhaps the highlight of the entire weekend occurred during a cover of the Edgar Winter Group's "Frankenstein," when keyboardist Page McConnell picked up a keytar. Yes… a KEYTAR, on which he created a truly monumental synth-explosion. Hopefully he'll keep that gadget handy at any and all upcoming performances!
Speaking of which, Phish will return yet again this summer for a mostly sold-out, 13-show run (the only available tickets are for their two shows at the Bonnaroo Festival in Manchester, TN). This means that tickets will be nearly impossible to find, as they were for the Hampton shows.
If you couldn't make last week's concerts, the band posted all the sets from the three-night event on their website for free. Phish "phans" can also take comfort in the fact that their heroes are definitely back. And judging by the music they made last weekend, they sound even better than ever.