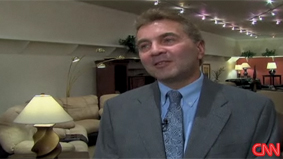 From defense attorney to sofa salesman. CNN's Jason Carroll reports on how one white collar worker is making ends meet.
It almost sounds like the beginning of another bad lawyer joke, but what happened to Paul Semenza is very serious and it's happening to white collar workers across the country.
Semenza practiced law for 25 years as a defense attorney at a small firm near Boston. Last year, he was laid off. The reason: the economy. Semenza was concerned but thought all his years of experience would soon lead to another offer, but it never came. Semenza said, "probably eight or nine months of not being able to get back into a law firm or a company doing litigation work, I decided I can use my skills in other areas."
Semenza finally found work as a salesman at Bob's Discount Furniture in Saugus, just outside Boston. His pride soon gave way to worry he might not land the job at the discount store. He said, "I thought they would tell me I'm overqualified, and I was afraid that without a sales background they wouldn't accept me, but they did and I'm grateful."
Educated and experienced workers like Semenza are not sheltered from the economic downturn. In February alone, 180-thousand were laid off.
Some research shows white collar workers make up 43 percent of those considered long term unemployed – those out of work for six months or more.
What the figures fail to capture, is the emotional impact it can have on a person. I asked Semenza about what kind of adjustment it's been. He said, "I still wear a tie, I still where a jacket, I'm not digging ditches somewhere, but it's an adjustment psychologically, yeah, it's been, it's been different, it's been different."
So much is being asked about the country's economic future. Questions such as who was responsible for the economic downturn? When will the bottom be reached?
When will the market rebound?
Asked about his own future, Semenza replied, "that's a good question, I don't know. I don't know, I'm taking it one day at time and enjoying the opportunity I have here..."