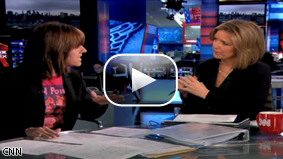 CNN's Christine Romans speaks to Jacki Zehner of the Women's Funding Network, about the role women play in the economy.
The nation's unemployment rate is still climbing, but it's affecting a lot more men than women.
The Bureau of Labor Statistics puts unemployment over eight percent for men, but under seven percent for women. That has some experts wondering – could women be key to our recovery?
For more, we talked to Jacki Zehner with the Women's Funding Network and Linda Butler who's benefitted from that network.