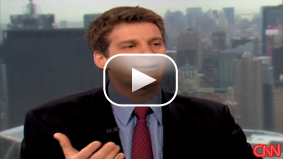 CNN's Kiran Chetry speaks to management consultant Peter Bregman about how to start a business in this economy.
It's a recession. If you find yourself without a job, well you aren't alone and it doesn't mean you can't find a way to success.
Bill Gates, Jim Henson, Walt Disney, just to name a few, all took a chance and hit it big during an economic downturn.
Instead of waiting around to get a call back from one of the hundreds of resumes you've sent or posted online, why not start your own business? Is it possible if you've never done it before and haven't the slightest idea where to begin? Yes, says Peter Bregman, a business management consultant who joined me on the show this morning. He says find your passion and go from there! Watch the interview.
On Twitter this morning, I asked people to tweet about their passions. We got some great answers; cooking, working in the field of green energy. News is my passion and has been since I was a kid. But if I had to try to start up my own business on the side, I'd probably do some photography. I love taking pics of the kids, gorgeous landscapes, everyday objects seen through an artistic eye. I'm also not bad with doing people's makeup. Among my friends, I'm the go-to gal if they need to get glam for a party.
Everyone's got a knack for something beyond what they get paid to do. Our guest today says it's just a matter of taking a risk at a time when you probably have a little less to lose.
Good luck,
Kiran