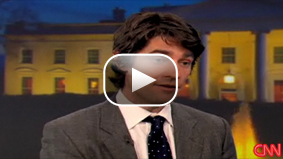 John Roberts speaks to Nicholas Thompson of Wired Magazine about President Obama's online town hall meeting.
President Obama - open for questions.
He'll be fielding them, not from the press, but from you... in an online, town hall meeting beginning at 11:30 am eastern time today. And, the president is making a direct video pitch to the public for those questions. 75-thousand questions have already been submitted.
Nicholas Thompson, "Wired" Magazine Senior Editor, joined us live.