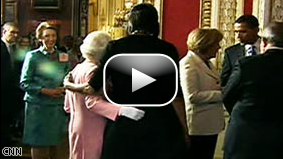 Britain's Queen Elizabeth II and first lady Michelle Obama embrace while meeting Wednesday in London.
We are very amused.
There are a few things in this world that you just don't touch. A hot stove. The third rail of a subway line. The business end of a bee. Oh yes, and the Queen.
Anyone who has ever met Her Royal Majesty knows that it's not cricket to lay a mitt on the monarch other than to shake her hand when she extends it. Just ask former Australian Prime Minister Paul Keating, who was branded the "Lizard of Oz" in 1992 after he committed the extraordinary faux pas of putting his hand on the Queen's back.
"All hell broke loose" when that happened, according to royal watcher Charles Mosley, who spoke with us this morning.
So imagine the surprise of the British press and people when a photo flashed around the world of the Queen and Michelle Obama arm-in-arm! According to royal watcher Robert Jobson (who asked Buckingham Palace about it), the hug-fest was initiated by the Queen, "she embraced her", says Jobson. "She just pulled her close and Michelle responded."
The moment was as endearing as it was rare. The newly-minted first lady and the British monarch, in a demonstration of enduring friendship between nations, displayed tenderness between individuals. "The Queen is not known for being touchy-feely", Mosley told us. "Her son, Prince Charles, complained on one occasion he wasn't given enough affection when he was a child. She's obviously a late developer."
She's obviously enamored of Michelle Obama, as it seems is most of London. "The First Lady can't do anything wrong as far as London is concerned", Jobson told us this morning.
And there's no question the first lady is a hugger. I was surprised to see her freely doling out hugs at a campaign event in Denver last August, an early indication that at some point, an embrace with a monarch might be in the offing.
The Queen's ladies-in-waiting were reportedly agog at the incident, as was the British press. At first, it wasn't clear who initiated the contact, but as the story began to unfold and palace officials confirmed the timeline, royal watcher Mosely was left to jokingly consider "For all I know, this is a breach of White House protocol."
What do you think of the display of affection between Mrs. Obama and the queen?