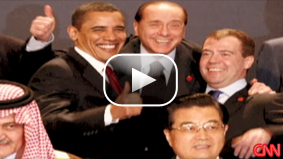 Washington is split over President Obama's approach toward repairing a damaged U.S. image. CNN's Jim Acosta reports.
As the President travels to a predominantly Muslim country, a new image of America is reaching a side of the world where friends are sorely needed.
After eight years of George W. Bush, President Obama is talking a lot about "mutual respect."
So far, Europe has responded. But some in Washington aren't so sure it's the right message.
What do you think? Is President Obama repairing America's image abroad?