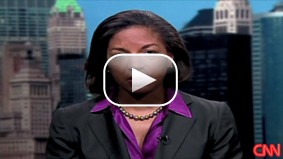 U.S. Ambassador to the U.N. Susan Rice speaks to CNN's Kiran Chetry about North Korea's rocket launch.
North Korea's controversial missile launch on Sunday sent the UN Security Council into an emergency session and President Obama was woken up at 4:30am with a phone call in Prague.
It's the President's first major international security dilemma. But even after hours UN officials left their late night meeting with no response.
America's Ambassador to the United Nations, Susan Rice, joined us live.
What do you think? What steps should the United Nations take in response to North Korea's missile launch?