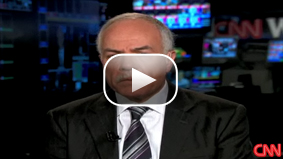 CNN's Kiran Chetry speaks to Hisham Melhem of Al-Arabiya about President Obama's message to Muslims.
President Obama was in Turkey today. It was the last leg of his five-nation European tour and his first trip to a Muslim country since taking office. During the stop he sent a message to the world that the U.S. will never be at war with Islam.
"I am personally committed to a new chapter of American engagement. We can't afford to talk past one another, to focus only on our differences or to let the walls of mistrust go up around us."
So how is the Muslim community reacting to the president's visit? Hisham Melhem, Washington Bureau Chief for global Arab language network Al-Arabiya, spoke to Kiran Chetry Tuesday on CNN's "American Morning."
Kiran Chetry: In all, how was our president received in the muslim world?
Hisham Melhem: Well, judging by the positive headlines, by the live coverage that my network and others gave his speech yesterday in front of the Turkish parliament, the Muslim world likes what the president has been saying. Not only in Turkey, but since he was elected. And I think his words and, more importantly, his actions, have resonated positively throughout the Arab world and the Muslim world. People realize that there is a new tone, that there is a new content, that there is a new language. Gone are the combustible words that President Bush used to use like Islamo [sic] Fascism. Now the new president talks about engagement, he talks about partnership, he talks about respect, mutual interests. President Bush seemed to many Arabs and Muslims every time he talks to them as if he is talking down to them, as if he is lecturing them. This new president is trying to engage them as potential partners in the fight against the real enemy of the United States and the real enemy of these governments which is al Qaeda. The president doesn't talk about the war on terror in general because the war on terror is a war on a tactic. He has a well-defined enemy called al Qaeda. He doesn't clump like, President Bush, all Islamic groups. He focuses only on al Qaeda. All of these things, they are nuances and people recognizes nuances and they appreciate that.
Chetry: I want to ask you about that, because there are some who criticized exactly what you are saying is a good thing, saying he gave a pass perhaps to groups like Hamas, Hezbollah, the Muslim Brotherhood and other groups that have used terror and are considered terrorist groups by our government.
Melhem: Look. President Bush, the way he framed the issue, the war on terrorism created a conceptual muddle and he confused a lot of people. When you fight an enemy, you have to define your enemy very well and President Obama is trying to do that. It doesn't do any service to the United States' effort to defeat al Qaeda, to keep al Qaeda in a defensive posture, when you lump together all of these groups. Yes, it is true, the United States labels Hamas as a terrorist group and Hezbollah and others, but the United States is not engaging in the battlefields against Hamas. We are engaging al Qaeda on the battlefield in Afghanistan and in Pakistan. And if you want to succeed, you need Muslim allies and one way of doing that is to define your enemy very well. The United States essentially is not saying Hamas is our enemy. The United States is essentially saying what the Israeli government is saying, we will talk to Hamas if Hamas do A, B, C. It's a conditional position vis-à-vis Hamas. There is room for the United States to say we don't like Hamas and that is America's right. At the same time, you cannot classify Hamas the way you classify al Qaeda. It's al Qaeda that visited us with their destructive deed on that fine morning in September 2001. Not Hamas. As much as we don't like Hamas as a group that is pursuing certain policies that is not to the liking of the United States government.
Chetry: It appears there is still a major distrust from Americans here in the United States. This is the quote on the poll. Should the U.S. trust Muslim allies as much as other allies? The results, surprisingly, were pretty split. 51% saying yes, but nearly half saying no. Why does there seem to still be this mistrust on the part of the American people? What can be done to change that?
Melhem: Well, education, engagement, accepting the Muslim world as not necessarily this strange other but a potential partner. I was not very surprised because of the impact and the legacy of 9/11, the misunderstanding generated by the war on terrorism, the invasion of Iraq, Guantanamo, Abu Ghraib, all of these things that created enmity in the Arab world and Muslim world and misunderstanding in the United States. There is unfamiliarity in America with the Muslim world and there is ignorance. Let's be blunt. I don't expect the average American to be an expert on Islamic jurisprudence but at least one would like to get through those negative images instead of typical images of Muslims. And here I must add there is a role for the Muslim world. I mean, now the president could look at Muslim leaders in the eye and say, I've done certain things that you wanted me to do, closing down Guantanamo, I'm getting out of Iraq. I sent a positive message to the Iranian people. I'm sending George Mitchell to mediate Arab-Israeli peacemaking but I want you to deal with the problem that afflicts your society. Which is essentially a problem of governance of which you as Muslim leaders and Muslim elites and Muslim ruling classes are responsible for. So there is a role here for the United States to be blunt and honest with the Muslim leaders and Muslim world, as well as a responsibility for the Muslim leaders and Muslim elites to fix the ailments that afflict their societies.