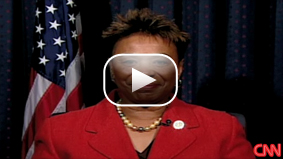 Congresswoman Barbara Lee discusses the Congressional Black Caucuses' meeting with Fidel and Raul Castro.
Cuba's former dictator, Fidel Castro, has met with U.S. Officials for the first time since he became ill in 2006. He met with members of the Congressional Black Caucus in Havana. This meeting comes as the Obama administration is reportedly considering possibly ending a half-century of Cold War isolation.
Representative Barbara Lee is the Chair of the Congressional Black Caucus and one of the three members who met with Fidel and Raul Castro. She spoke with Kiran Chetry on CNN's American Morning on Wednesday.
Kiran Chetry: This is a subject of intense interest because we have not seen Fidel Castro, the former Cuban dictator, in so long. When you met with him, how did he look?
Barbara Lee: He looked fine. Of course, he's been ill, but I can tell you one thing, he was very energetic, very clear thinking. He knew what we had been doing while we were in Cuba. He knew our mission. He recognized who we were. And he was very engaging. We discussed quite a few subjects. Of course, bottom line is we wanted to talk more about normal relations between our two countries and how he viewed diplomacy and discussions and dialogue as it relates to ending the embargo against Cuba. It was very interesting because he said, like President Raul Castro said the night before, that the Cuban people want normal relations, dialogue without preconditions. And we know here in our own country that 68 percent of the American people want normal relations with Cuba.
Chetry: It certainly is a contentious issue and there are passionate arguments on both sides. Can you explain for us why the Congressional Black Caucus decided to make this trip?
Lee: Members of the Congressional Black Caucus have visited Cuba on many occasions. I've visited Cuba since 1977. Members of the Congressional Black Caucus began visiting Cuba around maybe 1999. It's time to change our direction in our foreign policy. The president is doing a phenomenal job in the world, reshaping America's image and role in the world. So we want to make sure that we have the proper information to make recommendations to the president, our Secretary of State, and our Speaker with regard to U.S. policy toward Cuba. As members of Congress, we have a responsibility to help shape our foreign policy. And Cuba is 90 miles away. We've had a 50-year-old policy that did not work. So it's time to talk to Cuba.
Chetry: Amnesty International and Human Rights Watch have documented a litany of human rights violation by the Cuban government. They talk about torture, arbitrary arrests, intimidation of dissidents and even executions. By meeting with the Cuban leadership and pushing for normalization do you risk appearing to condone some of these human rights abuses?
Lee: Absolutely not. What we went down to Cuba to discuss was how we can help push the ball forward, what it would take to begin dialogue. And we heard over and over again that every issue that the United States feels is important, wants to discuss every issue that's been raised for the last 50 years would be on the table for discussion. Our purpose was to see if there were preconditions on the Cuban side. We heard that there were no preconditions. And, in fact, we wanted to find out if they were interested. We have to remember that every country in Latin America, 15 countries, have normal relations with Cuba. And most of the EU. We're the country which is isolated. The American people should have a right to travel to Cuba to determine their own perspective. So all we're saying is do we need to move forward to have constructive dialogue based on national sovereignty and mutual respect? And members of our delegation believe that's the case. We will communicate this to our president prior to the Summit of the Americas which will be held in Trinidad April 17.
Chetry: Senator Mel Martinez staunchly opposes normalizing relations under the Castro regime. Born in Cuba, he came to the U.S. when he was 15. This is the statement he issued to us: "Regardless of one's position on Cuba policy one would expect that any U.S. official or member of Congress visiting Cuba would have the courage to meet with members of Cuba's struggling independent civil society and to raise concerns about the regime's systematic violation of human rights with Cuban officials." Why didn't the delegation meet with any dissidents?
Lee: Members of the delegation have met with the dissident community on many occasions. I am one who's done that. The purpose of this trip was to talk primarily to Cuban officials to determine whether or not we needed to recommend to our president to maintain this 50-year policy or if in fact it made sense to recommend that the policy be changed. And we believe that American citizens deserve the right to travel to Cuba and also we'll be recommending that it's about time that we find some kind of avenue to begin to have this discussion and dialogue with the Cuban government so we can begin to normalize our relations and to end the embargo. The business community is very interested in this. The U.S. Chamber of Commerce understands that it's in our economic interest to do that.