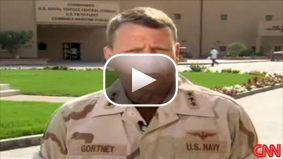 Vice Adm. William Gortney describes the rescue of a ship captain held hostage by pirates off the Somali coast.
"Armed security detachments" to protect civilian ships at sea. That's the recommendation of the admiral in charge of U.S. Naval operations off the coast of Somalia.
Vice Adm. William Gortney, appearing on American Morning today, left little question as to what he thinks shipping companies should do to fend off piracy.
The idea of sailors, or shipboard security personnel carrying weapons is a controversial one. Might it provoke shootouts on the high seas? Would it increase the likelihood that acts of piracy could have deadly consequences?
Adm. Gortney views the issue pragmatically. These companies hire armed security to "protect their property on the beach," he says, so why not extend that to the oceans?
Civilian ships have used aggressive, but mostly non-lethal tactics to keep pirates at bay, such as dousing would-be hijackers with fire hoses, outrunning or outmaneuvering them.
While pirates have terrorized vessels, and continue to hold more than 200 sailors hostage, they haven't – as a rule – gone around shooting their captives.
Could all that change if shipboard security details use deadly force to keep pirates from boarding? And will Sunday's shooting of 3 pirates increase the likelihood that the hijackers will harm their victims? If we believe the threats that have been issued in the past 24 hours, it may.
Adm. Gortney advocates a wide range of non-lethal measures as well, including "something as simple as putting barbed wire around low approaches on the boats themselves." He points out that "just last week, two vessels were unsuccessfully attacked because the crew had put barbed wire around the ship."
But even with those countermeasures, pirates might still get aboard. Some crews, fearful that hijackers might sink their vessel with a few well-placed RPGs, have allowed the pirates to take control.
Could armed security details lie in wait for the hijackers then take them out when they hit the deck?
How well-armed would they have to be to overwhelm the invaders? Who best to serve as shipboard security – Pinkerton's or Blackwater?
It is a provocative issue, but with piracy on the increase and the navies of some 17 nations unable to deter all hijackings, it's an idea Adm. Gortney believes deserves frank consideration.
What do you think?
John Roberts