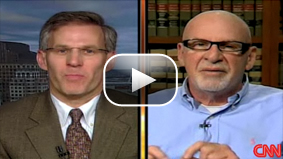 CNN's Kiran Chetry speaks to a former DEA agent and an economist on whether drugs should be legalized.
Good Monday to you,
Hope you had a wonderful Easter and/or Passover weekend. Looks like our prayers were answered! Captain Richard Phillips rescued by our brave Navy Seals. He is now safe and getting ready to be reunited with his family and loved ones. Read the story
All this week on American Morning we are taking a look at America's drug addiction and how it's fueling the growing violence at the Mexican border. We're calling it "Drug Nation."
This morning we had a debate over legalizing hard drugs – substances like heroin and cocaine. It's a position advocated by Jeff Miron, an economist from Harvard University. Former DEA agent Bob Stutman had plenty to say about why that would be a huge mistake. Watch the debate
The two men also posted commentaries about their points of view - check them out.
We also invite you to weigh-in on the debate. Vote! Should drugs be legal in the U.S.?
Meantime, it's not just the legalization issue that is hotly debated – it's also about finding better solutions to deal with people addicted to drugs.
Should we keep locking them up, or pay for them to get intense rehabilitation? According to the FBI's Uniform Crime Reporting Program, there were an estimated total of 1,841,182 state and local arrests for drug abuse violations in the United States during 2007.
We spend billons each year trying to fight drugs from all angles, yet millions are still struggling with addiction. Here are some sobering numbers from the Office of National Drug Control Policy.
Overall costs of substance abuse in the U.S. from 1992-2002 including health and crime-related costs, as well as, losses in productivity – exceed half a trillion dollars annually.
The answers don't come easily… but we are trying to drill deeper into this issue and maybe get some of the best minds on the issue looking toward solutions.
As always, we want to hear what you think about the issue. We are covering it all week. Let us know if there's something we aren't asking that you think is important – Follow us on Twitter @kiranchetrycnn and @amFIX
Looking forward to hearing from you,
Kiran