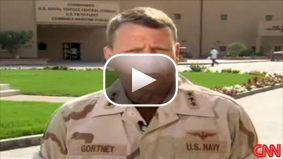 Vice Adm. William Gortney describes the rescue of a ship captain held hostage by pirates off the Somali coast.
Yesterday, Navy SEALs fired three shots and took out the three pirates holding an American shipping captain hostage. The Commander of the 5th Fleet, Vice Admiral William Gortney, spoke to CNN's John Roberts on Monday.
John Roberts: Can you walk us through what happened yesterday?
Vice Adm. William Gortney: It was an ongoing hostage negotiation attempt to keep the event at as low a level of violence as possible so that we could ensure the safe return of the captain. The activity had got to the point where the lifeboat was out of fuel. One of their pirates had left the life boat, needed medical attention and jumped on to one of our rigid, inflatable boats, so they were down to one.
They're tired. The sea state was picking up. They'd agreed for us to tow them into some little better waters as the ship was bouncing around. It was very tense. The on-scene commander could see that the three remaining pirates were very, very intense. One of them held his AK-47 in the back of the captain. We were always concerned about the imminent danger to the captain.
And because of the tensions and the imminent danger, at one point... they exposed themselves where there was an opportunity, and because of imminent danger to the captain, the on-scene commander saw that one of the pirates still held that AK-47, was very, very concerned for the captain's life and he ordered the shots to be taken. Three shots were fired and all were fatal. And it was a phenomenal shot, 75 feet away, the small boat was moving up and down a couple two to three feet and it was at night. Just remarkable marksmanship.
Roberts: What do you expect is going to be the upshot of this operation? We're hearing threats from pirates to say, okay, America, you've changed the rules here now. We are going after Americans and we're going to take our revenge. Do you expect they could do that or is that just bluster and hollow threats?
Gortney: Well, we would hope that pirates will conclude that they should not attack U.S.-flagged ships or any of the ships out there in the future. We think the shipping companies should conclude that they should consider very strongly following the measures we suggested that they adopt, which include embarking security detachments and we believe armed security detachments.
And we would hope also that the tribal elders in Somali will persuade their young men to look for livelihoods, recognizing unfortunately, that the lack of opportunities in Somali is what drives young men to piracy in the first place.
Roberts: You think these ships should have armed personnel on board, armed security teams to defend off potential hijackings and piracy?
Gortney: Well, you need two things to have a successful piracy attack. You need pirates that are seeking monetary gain and you also need a ship that's able to get pirated. We don't have much of an influence. We're trying to influence the pirates to disincentivize being a pirate but when it comes down to the second part of that, it comes down to the shipping industry itself.
Our statistics do bear out that they are the last line of defense and they are the most effective contributor to an unsuccessful attack and using speed, maneuver, good lookouts, something as simple as putting barbed wire around low approaches on the boats themselves.
Just last week, two vessels were unsuccessfully attacked because the ship had put barbed wire around the ship on the closest avenues of approach. And ultimately, an armed security attachment to protect their property as they do protect their property on the beach.