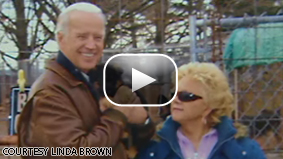 CNN's Alina Cho reports on the backlash received by the breeder who sold Vice President Biden his puppy.
From CNN's Melissa Morgenweck
There was no need to ring a doorbell when we pulled up to the Wolf Den kennel in Chester county Pennsylvania. At least a dozen German Shepherds announced our arrival.
Linda Brown greeted us and introduced us to the pack including her favorite, 13 year old Hans. Most of the dogs in this section had once been breeders. Now she keeps them as her personal pets.
They are just one grouping of the approximately 80 adult dogs that she says live on her property. "German Shepherds look into the mirror of your soul. They are intelligent and protective and your animals for life."
Brown told us that she had been up since 4am helping deliver a litter of puppies. "They like to give birth in the middle of the night when it's quiet and still."
As we toured the property Brown recalled the day last December when Vice President Biden came to pick out a dog. "He picked the puppies up and literally kissed them all over. And when he did finally select his puppy he just wouldn't let him go."
But Brown says she has paid a big price for the publicity. Soon after the visit she claims she received death threats from animal-rights groups. Dog wardens from the Pennsylvania Department of Agriculture also made multiple visits to inspect her kennels. (The state told one of our producers that inspections typically take place twice a year.)
Brown was cited for poor record keeping, dirty housekeeping and mistreating her dogs. Last month she was cleared of all citations. "It hurts the depth of your soul that they would even have the nerve to call me and tell me that I'm inhumane with my dogs. My dogs are treated better than most children are treated."