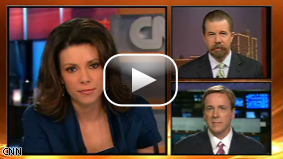 CNN's Kiran Chetry speaks to Fmr. DEA Agent Bob Strang and author Juan Hernandez about America's drug addiction.
Happy Tuesday. All this week on American Morning, we're breaking down America's drug addiction and how it's helping fuel the violence spilling over the border.
This morning we looked at the 8.5 billion dollar business of marijuana.
In her report this morning, Jeanne Meserve dug deeper into the issue and found marijuana is the cash cow for cartels with revenue eclipsing cocaine, heroin and meth combined. Watch the story
But how do you stop the supply when there's such a massive demand?  Opinions are mixed.  There's a small but vocal lobby to legalize marijuana, tax it, and cut out the cartels by bringing the dealing and regulation to Main Street. 
Others say it has to start with education about the dangers of drug use, tougher enforcement and targeting of the actual cartel king pins. That's where enhancing our relationship with Mexico comes in. 
Here's a look at the debate this morning with Juan Hernandez, who once advised former Mexican President Vicente Fox. He also wrote "The New American Pioneers". We were also joined by Bob Strang, a former special agent with the DEA. Watch the debate
We also got some great comments from our viewers following us on Twitter and calling into the show hotline.
Our amFIX poll asked, do you think the United States should legalize drugs?  Here are the results so far:
No way – 8%
Yes, all drugs – 48%
Only marijuana – 44%
 
Remember, this is not a scientific poll.
Don't miss tomorrow when we bring on Congressman Ron Paul in our 7am ET hour.  He's a fierce advocate for personal liberties. Paul says we should legalize drugs and that personal freedom means we are also free to make bad choices. Do you agree? Please weigh in as always.
See you in the morning,
Kiran