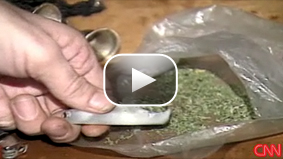 Which drug is the cash cow of the Mexican drug war - cocaine or marijuana? Jeanne Meserve takes a look.
From CNN's Jeanne Meserve
And all this week we're breaking down America's drug addiction and examining how it's helping fuel the violence spilling over the border.
Today we're looking at the 8.5 billion dollar business being made off marijuana. How do you stop the supply when there's such a massive demand?
What do you think? Is marijuana a victimless drug or is it fueling the violence in Mexico?