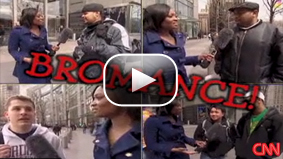 Bromance is the latest term causing a pop culture stir. CNN's Lola Ogunnaike explains what it means.
Bromance? On the streets of New York, the term elicited quizzical looks from the several men I approached.
Melvin, a bike messenger with meticulous cornrows and baggy jeans, assumed I was inquiring about something related to homosexuality.
One aspiring writer nervously stammered through our brief chat and made it a point to profess his love for women repeatedly.
Only one young man, a student at Fordham, knew what a bromance was and seemed comfortable enough to profess that he was indeed a bromantic. Why the weirdness? Dudes and feelings are not supposed to mix.