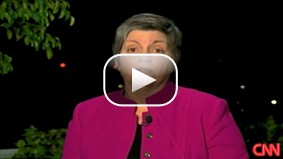 Homeland Security Secretary Janet Napolitano speaks to CNN's Kiran Chetry about drug violence in Mexico.
President Obama makes his first trip to Mexico today as drug violence continues to plague the border between the U.S. and Mexico. Homeland Security Secretary Janet Napolitano will be with the president on his visit. She joined Kiran Chetry on CNN's American Morning Thursday.
Kiran Chetry: We heard from Secretary of State Hillary Clinton who said America's insatiable demand for drugs is in part fueling the drug wars. Do you think we're partly to blame for the violence we've been seeing along the border?
Janet Napolitano: Well, there certainly is a relationship. You can't deny it. These are huge drug cartels that have developed over time. They're very violent. Witness the fact that there were over 6,000 homicides in northern Mexico last year including 550 that were assassinations of law enforcement or public officials in Mexico. What we're working to do, is to work to stop the flow of guns and cash in to Mexico that are helping fuel these cartels. But also, we're working at the border to make sure that the spillover violence doesn't occur in our own cities and communities.
Chetry: We've been having this debate all week on our special report, Drug Nation. One of the things that keeps coming up is legalization. Some say we would pull the rug from right under the cartels if we legalize, let's say, marijuana. Is that something that the administration is considering as realistic?
Napolitano: No. It is not. This is, to me, a law enforcement issue. It is preventing illegal narcotics and illegal immigrants from coming into our country on the northbound side. It's preventing illegal guns and cash from going south in to Mexico and working with the government of Mexico to increase their own law enforcement capacity.
Chetry: As governor of Arizona you supported sending National Guard trips to the border. It's still under review now. Why haven't we seen that done yet?
Napolitano: Well, first of all, it is under review. One of the things that we've asked the governor of Texas in particular for and he just got back to us, is what would the National Guard do? What would their mission be? Because you don't just throw National Guard at the border. We don't have a military border per se. But we use National Guard and targeted mission-specific ways. When I was governor of Arizona, I called the National Guard down to the border to help back-up border patrol because we were having such a high influx of illegal immigration.
But overall what you need at the border is civilian law enforcement. That means on our side, immigration, customs enforcement, and state and local tribal law enforcement. The same on the Mexican side. You need technology. You need things like sensors and radar. And you need the equipment that goes along with that. You have a system. And then you have a process whereby in the United States, we make sure we're enforcing our immigration laws against the employers who consistently go in to that illegal labor market in order to exploit it.
Chetry: You're a proponent of e-verify where you can instantaneously type in a social security number and find out if that person is legal. Are we going to see that expanded?
Napolitano: I hope so. I believe e-verify needs to be an integral part of our immigration enforcement moving forward. I used it extensively as the governor of Arizona. As an employer, we used it to verify legal residents of potential employees of the state. We required our contractors to do the same thing. So I know how the system works. It's a very practical, easy to accomplish adjunct to enforcement of our immigration laws. That is, giving employers a fairly easy and routine way to verify legal residents.
Chetry: You've been getting a lot of pushback over this leaked domestic intelligence report, warning of right-wing extremists groups. Conservative and veterans groups are saying it unfairly targeted returning military veterans and gun rights advocates without actually citing specific threats. How do you respond?
Napolitano: This is an assessment, not an accusation, as the Veterans of Foreign Wars organization released yesterday. But I know that some veterans groups were offended by the fact that veterans were mentioned in this assessment. So I apologize for that offense. It was certainly not intended. I'll be meeting with the leaders of some of those groups next week.