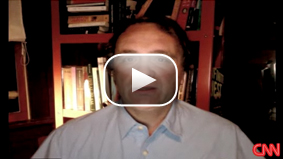 CNN's Kiran Chetry speaks to a former CIA operative who says President Obama needs to release more about torture.
President Obama has come under strong criticism from some in the CIA and others for releasing memos that detail some of the agency's harshest interrogation tactics. Yesterday, the president went to the heart of the spy business to explain his decision.
"I want to be very clear and very blunt. I've done so for a simple reason. Because I believe that our nation is stronger and more secure when we deploy the full measure of both our power and the power of our values."
Former CIA operative Robert Baer supports the move and says perhaps even more information should be released. Baer spoke to Kiran Chetry via Skype on CNN's American Morning Tuesday.
Kiran Chetry: You support the move? You think the release of the Bush-era memos on interrogation tactics was the right move and that it did not compromise national security?
Robert Baer: Well, not at all. All of those techniques are in the military manuals, which are on the internet. Most of that information appeared in the New York Review of books in Mark Danner's article, "The Prisoner's Getting Out." It talked about what they were subjected to. It's not a secret. None of these techniques are a secret so why not release it? I think what we really need to do is clear the air on torture. My biggest objection is nobody, until now, has presented evidence that torture works and I just don't see it.
Chetry: Not everybody sees it from your point of view. Even people within the agency, former Attorney General Michael Mukasey and former CIA chief Michael Hayden, have both said they think releasing the memos threatens national security. Do you think they have a point?
Baer: No. It's an executive decision whether to use torture or not. That's very clear for the eight years of the Bush administration and we can go way beyond those limits if we want. If we are attacked again this president is going to be faced with the same decision. Do we use abusive interrogation techniques? We don't have to be confined to these military techniques. We can go way beyond it and change policy at any time. The question I have, does it compromise sources and methods? The answer is no.
Chetry: Your fellow "Time" magazine columnist Joe Klein talked about the concerns at the CIA and said it represents to them "a breach of faith – that the release of the information will cripple the clandestine service" and "represents a grant of too much information to our enemies." He says it might make it harder for them to do their job. It's something the president alluded to when he was well-received in his visit yesterday to the agency.
Baer: Well, you know, here is the thing. Yes, it is demoralizing to the CIA. Any time scandals appear in the press it demoralizes the CIA. But this should have been thought of seven years ago when this was started. That is not the CIA's job, to do hostile interrogations. It's classical espionage, which it was diverted from doing. And the CIA does best when it's left alone. This was a very political decision and it was a mistake.