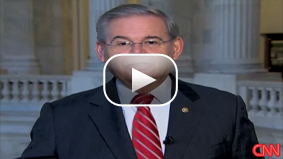 Sen. Robert Menendez speaks to CNN about urging President Obama to crack down on credit card companies.
Have you noticed your finance charges climbing higher on your credit card statement? Or maybe you've been late paying your electric bill and next thing you know your credit card percentage rate jumps?
Well, Washington is apparently sitting up and paying attention to the pain of many consumers already drowning in credit card debt who are finding new fees and surcharges making it worse.
President Obama meets Thursday with credit card company executives to try to push for changes to predatory practices. There are also bills in the House and Senate to do the same.
New Jersey Senator Robert Menendez joined us this morning because he is spearheading one effort. Watch the interview
Sen. Menendez is calling for a stop to "blanket rate increases," an end to "universal default." This means if you are late on one card it can bump up your rate on another, which then requires penalties and other fees be tied to their actual cost. It is getting ugly! But there are two sides to every story. Lenders say they've been hurt by the rise in defaults and delinquencies and that legislating the way they do business will restrict the flow of credit and slow the economic recovery.So all eyes will be on the White House to see if and how this gets resolved.
We are going to continue to follow this debate and see where things go tomorrow on American Morning. We'd like to hear from you. Call our show hotline at 1-877-MYAMFIX. And follow us on Twitter @amFIX and @kiranchetrycnn.
See you in the morning!
Kiran